If you enjoy convenience when travelling while avoiding the hassles of dragging a wheeled bag everywhere you go, then you should consider getting a travel backpack.
With the right size and type of backpack, you will enjoy travelling around the world as it is a flexible and comfortable way to travel. If you need a reason why you should ditch your regular travelling bag when going on your next trip with one of these best travel backpacks for women, I'll give you reasons.
For starters, travelling with a backpack is comfortable and flexible. You can fit in anywhere on a bus, an airplane without hassles. It also helps you downsize, so you pack only the relevant things as a woman. Most importantly, you would escape the extra fee for luggage with a backpack.
If you've been looking for the best way to downsize when travelling, getting a cool backpack would give a head start. Now, you don't need to get overwhelmed by the different travel backpacks for women in the market.
Before you start shopping for the backpack for your travel needs, check out our reviews and features you should look out for to get yourself a good deal.  
---
In a Hurry? Our Top Recommendation on the Best Travel Backpack for Women 
| | | | | |
| --- | --- | --- | --- | --- |
| NAME | TYPE/ STYLE | SIZE | FIT/ GENDER | SPECIAL FEATURES |
| Women's Osprey Fairview | Front-loading backpack style | 55L | Women Specific  | Front-compression straps, Front panel slash pocket, and Mesh back panel for ventilation. |
| Peak Designs Travel Backpack | Front-loading backpack style | 45L | Unisex | Dual expansion zips, Laptop Compartment, Separate accessories, and Weatherproof. |
| Nomatic 30L Travel Bag | Front-loading backpack style | 30L, 45L (Max) | Unisex | TSA-ready flap, water-resistant, RFID pocket & compartment, Removable waist strap, and Versatile.  |
| Tortuga Setout Laptop Backpack | Front-loading backpack style | 45L | Unisex | Injection-moulded foam shoulder strap, Weather resistant, accessory pockets, and laptop sleeve. |
| Eagle Creek Global Companion 40L Backpack | Front-loading Backpack style | 40L | Women Specific | Ergonomic design, water-resistant, moisture-wicking straps, and Laptop sleeve. |
---
Things to Consider when Buying a Travel Backpack for Women
Before you jump into the market that's flooded with diverse types of travel backpacks for women, there are a couple of things you should know and consider when shopping so you don't get lost.
We will discuss these features to boost your confidence before you go into the wild to hunt for the perfect soul mate travel backpack for your next trip. Keep reading to find out. 
Fit:
When it comes to backpacks for females, the key is first to check out the fit. Here, you want to ask the vital question, "how well does it fit you?" The reason is that you do not want to buy a backpack that's not your perfect fit. Trust me; this case differs from when you purchase a regular bag for school purposes. 
If the backpack does not fit you perfectly or is, at least, adjustable, you won't be comfortable carrying it around. At least, you won't load your school backpack with your travel essentials. But you'd load a travel backpack to the brim with the number of things you'll need for your trip. Once your travel backpack is filled to the brim, it would get weighty, and here's where it gets tricky. 
The first step to checking if a backpack fits you is to confirm if it is a male, female or unisex backpack. As a female, you want to ensure that you do not shop for male backpacks because men and women are built differently. Hence, a men's backpack is shaped to fit a man's body. 
For instance, men and women carry backpack weight differently. While men carry the weight of a backpack on their shoulders, women carry the weight on their hips. Men's backpacks are designed to carry the backpack's weight on the shoulders, while women's backpacks carry the weight in the hip region. 
So, while buying backpacks for men isn't entirely wrong, it's best to opt for backpacks explicitly designed for women as you have a higher chance of getting a backpack that fits you comfortably. Next, check the torso height and hip adjustment of the backpack. 
Adjustable backpack hip belt relieves your shoulder of the bag's weight while fitting it on your hip. You want to ensure that the torso height is equivalent to yours and the hip belt is adjustable. Also, ensure there are no gaps around the strap area when you wrap it around your shoulder when your backpack is loaded. 
Size:
The size of a backpack is another essential feature you should consider. You'll agree with me that part of why you intend to travel with a backpack is to encourage you to pack and travel light, especially when your trip will only last a couple of days or, maybe weeks. 
Hence, aside from avoiding baggage fees, travelling with a backpack helps you travel light. However, if you'd like to travel with some essentials, there are some backpack sizes you should consider. Generally, backpack sizes are measured in litres. 
Light backpack travellers tend to travel around the world with backpacks that range from 30 – 40L. These bag volumes qualify as carry-on. Of course, you can travel around with backpacks bigger than 40L, but they would be weightier. For instance, if you choose to travel around with a 70L backpack, that's good as it would fit all the extra things you stop to buy while travelling. 
However, it would be weightier than expected, and it won't be as versatile as a 30L backpack. Also, it won't be regarded as a "carry-on" backpack again. Not everyone likes to travel light. But every type of traveller can benefit from travelling with a backpack for women. It all depends on the backpack size that you choose. For minimalists, you'll be better off with a 30-35L backpack.
If you want a backpack that gives you that extra space to stuff in the things you buy in a new city, opt for a 40-45L backpack. If you don't mind the excess weight and need a backpack with more than enough space, you can go for backpacks ranging from 55-70L. While 55- 70L backpack volumes are significant, you won't enjoy carrying them around as they weigh in on you.
Type/Style:
Generally, there are two styles for female travel backpacks. There is the front-loading backpack style and the top-loading backpack style. Both backpack styles have their advantages and disadvantages and fit different purposes. For instance, a front-loading backpack deploys the suitcase loading style for loading and accessing your belongings in the travel backpack. 
It is the ideal travel backpack style for women who are more concerned with travelling worldwide with their belongings for a meeting, etc. However, if your goal for travelling is to go hiking, then the top-loading backpack style is perfect for you. 
When you try to reach for an item in the bag, it will come with a level of difficulty. You'll practically have to pause, pull off the backpack and dig into it from the top. As the only way in and out of the backpack is the top. Hence, you might have to offload your belongings to reach the item you need, especially if you put it at the bottom. 
The trick to enjoying this backpack style for hikers is to pack the bag strategically. Think in terms of the items you'll frequently need but can't hold in your hands while hiking. Then, set them close to the entrance of the backpack. 
That way, you won't need to offload the backpack to get the item you need. Front-loading backpack style opens like a suitcase, making your belongings easily accessible regardless of where you are. 
Compartments:
If you enjoy having your things organized, then you should opt for backpacks with compartments. Backpacks that come with compartments help you store your belongings in different parts of the backpack for easy access and to prevent items that could get damaged by contact from coming in contact. 
Generally, compartments bring some order to your travel life. You'll know where the sleeping bags are and which compartment houses your wristwatches and jewelry. 
However, while having a backpack with compartments is excellent, please don't overdo it. Opt for travel backpacks with simple compartments like three compartments. You'll quickly remember where everything sits. 
Strap System:
Another important feature you should watch out for is the strap system of a travel backpack. A good travel backpack has a strap system in place that evenly distributes the bag's weight across the entire bag itself while resting the majority of the weight on your hip. 
A well-strapped travel backpack includes a lot of features. For starters, the straps are constructed strategically. These types of travel backpacks have straps on the shoulders, hip, and across the chest. That way, you won't feel the bag's weight crushing any part of your body because it's too concentrated at a backpack point. 
Aside from these positioning, the quality of the straps is essential. It will help if you check if the straps are padded and carved from high-quality material. The pad is to improve comfort so that when you wear the bag, you won't feel too much tension on your shoulder, hips, and chest. 
Then, if the straps are carved from high-quality materials, they won't wear out anytime soon. An added strap feature that might come in handy is strap pockets. If the straps come with pockets, you can easily store your mobile phone or a snack in them. A snack could also fit into a strap pocket so you can munch on it when you get hungry. 
Other features:
There are other features you should consider when shopping for travel backpacks for women. While you check to see if the travel backpacks you choose have the above-highlighted features, check if they are water-resistant. 
Since you'll wear the backpack on your back, you already know that you're exposing it to different weather conditions, especially to the rain. If the destination you're travelling to has more rainy days than the sun, the water-resistant feature is a must-have for your travel backpack. It keeps the rain from soaking into your backpack if you ever get caught in it.
---
In-Depth Review of the Best Travel Backpack for Women
This women's backpack from Osprey is one of the best companions a woman can ask for when travelling to another city, especially for a short vacation, and here's why; it was designed specifically with women in mind. For starters, the strap system is impressive. It features an inner Light Wire frame suspension that breeds comfort when you carry the bag. The suspension sends the weight of the bag to the hip belt. 
If you've had experiences with backpacks that move your gears around the backpack while the backpack is strapped behind you, this backpack will treat your gears better. It comes with dual front compression straps to hold your gears in place. That way, your shoulders don't have to feel crushed by the weight. Hence, you don't have to worry about your camera lens or food plate tumbling inside the backpack from moving too much.
This backpack is perfect for hikers and people who need to transport their belongings when planning a trip. Thanks to the suitcase opening style, it is a front-loading backpack that grants you instant access to your belongings. The size of this backpack is perfect for minimalists. Still, you can enjoy this backpack if you're a slightly heavy traveller. 
The fabric used to create this backpack is durable and of high quality, and it has enough compartments to house your gears. The reason is that it has a detachable daypack that encourages you to pack a few more things that you might need during your travel if you're not entirely a minimalist. With stowaway straps and a hip belt, you can keep your bag safe. 
---
This peak design travel backpack is created from poly mélange and nylon fabric, both of which contribute to its weather-resistant feature. The fact that it's weatherproof makes it the ideal travel partner for any form of travel; by air, road, or water. While it looks fashionable, this backpack is also very functional. As a unisex backpack, you'll enjoy travelling with this backpack for numerous reasons. 
The first is that it has a well-organized interior and compartment. Although it has two compartments that you can merge into one, you'll easily organize your belongings in the backpack. If you're a photographer, you'll enjoy carrying your gears in this bag as it'll help you neatly place your gears in it. Once you add the camera and parking cubes accessory from the company, you'll feel at ease that your camera gears are safe. 
You can also carry your laptop with you in this backpack using the laptop compartment that you can access via the main back zip. Don't worry; your back won't brush against your laptop when you wear the backpack as the laptop compartment is padded. 
What's more impressive about this backpack is how you can add to its 35L capacity. You can turn the 35L capacity into a 45L capacity travel backpack via the dual expansion zip. It gives you more storage space for the items you forgot to pick. This backpack comes with the front-loading style; it has a full-length U zipper that grants you easy and instant access to the backpack.
The only problem you might encounter with this backpack is that it is not adjustable. Hence, if after loading the backpack it's not comfortable, you can't adjust it. Nevertheless, the shoulder straps are slightly padded for comfort. 
---
Nomatic designed this backpack to be very versatile. You can either carry it as a duffel bag by tapping the backpack sleeve to carry the bag with another sleeve that turns it into a duffel bag. So, if you love duffel bags but need a backpack, this backpack gives you the luxury of having both at your disposal. Aside from its impressive versatility, it can hold a 45L load at maximum capacity. If packing your bag is the part of travelling you hate, this backpack would make you fall in love with the whole packing exercise. 
Thanks to its organized compartments, you'll easily arrange your belongings in the backpack without a hitch. There's a compartment for almost all your belongings. For instance, the shoe compartment prevents your shoes from staining your outfit in the bag in any way. There's also a compartment for your gadgets like your laptop. The laptop compartment is built with a TSA-ready flap to ensure that you encounter no problem with security with your laptop in your backpack. Although it seems like this backpack may have a lot of compartments, it is easily accessible and lightweight. 
When it comes to the material, this backpack is made from durable and high-quality material. Thanks to its water-resistant features, you can travel anywhere without fear of rain ruining the bag. If you constantly embark on business travels frequently, this backpack is the perfect companion for you. You might enjoy it as a hiker, but it is best suited for travellers. Also, it is a unisex backpack. 
---
If you're looking to own a backpack that feels packed like a suitcase, then Tortuga's got you covered with this laptop backpack. For starters, it wasn't only designed to carry your laptop where ever you go. You can stuff your belongings into this backpack and embark on short trips with it. Thanks to the front-loading style, you don't have to worry about losing your belongings deep down in the backpack that you'll find it challenging to reach. With accessory pockets, reach your belongings instantly when you need them.
With 45L capacity, this backpack can house clothing and belongings for a 7-day trip without hassle. It has a unique strap system that makes it comfortable to carry it around regardless of the load in the backpack. The hip belt is padded and removable as it is effective in helping your hip carry the weight of the bag. Although the bag's weight is not on the shoulder strap, the shoulders straps are padded for additional comfort. Thanks to the laptop sleeve, your laptop would be free from possible communing dangers. Also, unless your laptop is 17″ or less, do not attempt to use this backpack to ship your laptop.
The material of this backpack is 900D polyester which makes it 100% water-resistant and durable. You can also hide the straps from plain sight for safety, especially when you're not wearing them. 
---
This backpack is another travel backpack that's specifically designed for women. It follows an ergonomic design with a padded shoulder strap to ease possible tension that you may feel on your shoulder. Of course, it comes with a hip belt that receives all the tension and weight of the backpack. Hence, you'll most likely not have too many problems. 
Eagle creek helps you redefine lunch breaks a d dessert time with this backpack as an external pocket is attached to the hip belt. You can house anything in your pocket. If you sweat a lot, this backpack is for you as the fabrics have a moisture-wicking feature. This feature stops the straps from absorbing liquid and moisture that might destroy the quality after pilling up for so long. With its 40L capacity, it is fair for minimalists and people who'd lie to downsize when they embark on a trip. 
Aside from maximum comfort and great fabrics, this backpack also does well in the compartment field. It has a lot of compartments that make it easy for you to access your belongings. For example, just as you'll see a shoe compartment at the bottom of the bag, you'll also get a laptop sleeve to protect your laptop from external factors. 
---
FAQs on the Best Travel Backpack for Women
Can Men Use a Women's Backpack?
Yes. In reality, many males find it easy to use a woman's backpack. There may be slight differences. For instance, Women's packs have smaller carrying capacities, and their shoulder straps are narrower and shorter. However, these are just generalities and not specifics.
How Big of a Backpack Do I Need for Flying?
Most airlines allow passengers to transport carry-on luggage that measures no more than 22 x 14 x 9 inches. Backpacks with a capacity of 40-45 litres are acceptable as carry-ons. Anything larger than that would have to be checked in instead.
What Is Not Allowed in a Carry-on Bag?
Liquid or gel foods over 3.4 oz are not permitted in carry-on bags and should be transported as checked luggage if feasible. Travellers may be advised to separate items from their carry-on bags, such as meals, powders, and any materials that might clog or obstruct clear views on the X-ray machine.
What Can I Bring with Me on a Plane if I'm Travelling by Air?
Most toiletries and cosmetics are acceptable to carry in your handbag. However, larger containers or liquids and gels are prohibited in all bags carried on the plane. It is not possible to transport any liquid or gel product in an individual container that exceeds 3.4 ounces.
What Counts as a Personal Item?
In most cases, you may only bring one carry-on bag and one personal item on an airline. A personal item is usually described as anything from a handbag to a laptop computer to a backpack or camera case. Personal belongings should always be small enough to fit beneath your seat in advance of boarding the plane.
---
Final Words: The Best Travel Backpack for Women 
Travel backpacks for women always come in handy for short-period trips. If you are a minimalist, you can travel for longer with your belongings in a travel backpack. The goal of a travel backpack is so that you can travel light, avoid luggage expenses.
Although there are different travel backpack sizes, the best size for you depends on the scope of your trip and how you like to travel. Also, while women can purchase and use travel backpacks for men, it's ideal, for the sake of how your body is framed, to buy more travel backpacks for women.
We hope our review and buying guide has opened you up to different travel backpack types that would serve your needs.
---
AUTHOR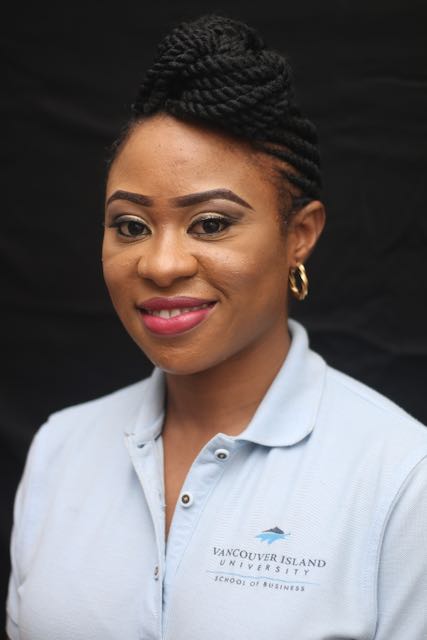 Charee Oisamoje is the founder of CanadaWiz. She leads the editorial team, which is comprised of subject matter experts that aim to create well-researched, highly detailed content related to studying, working, immigrating, and settling/living in Canada as a newcomer.
Charee's personal experiences as a Canadian immigrant and her professional competencies make her uniquely qualified on the subject matter.
With extensive educational credentials, she is an expert at collecting details, verifying facts, and making complex subjects easy to understand.
MBA in Finance
MScIB
CCEA (#CCG 271)
CPA Candidate ✔️CIP ✔️BSc Accounting
Learn More >> About Page
---
✔️ Get up to $3,000 CAD* Fee-Free transfer (or the equivalent of £2,000 in other currencies).
✔️ Earn $75 CAD** for every 3 friends you refer; they'll get a fee-free transfer of up to $800 CAD.
✔️ Multi-Currency Debit Card: Spend abroad without hidden fees.
✔️ Best and real exchange rates and lower fees than old-school banks and other money transfer services.

*Your secret code will be automatically applied.
**USD accounts earn $115 USD for every 3 friends you refer; they'll get a fee-free transfer of up to $600 USD).
---
✔️ Get a $30 welcome bonus for transferring $100* or more.
✔️ Get a 20 GBP welcome bonus for transferring 75 GBP* or more.
✔️ Fast: 95% of transfers are received by the recipient in minutes.
✔️ Better exchange rates and lower fees than most traditional banks and money transfer services.
*This can be achieved over multiple transfers.