Flying is arguably the most convenient way to move around in Canada and globally. However, flying can be expensive.
Fortunately, there are low-cost airlines in Canada that will allow you to fly cheaply and save money.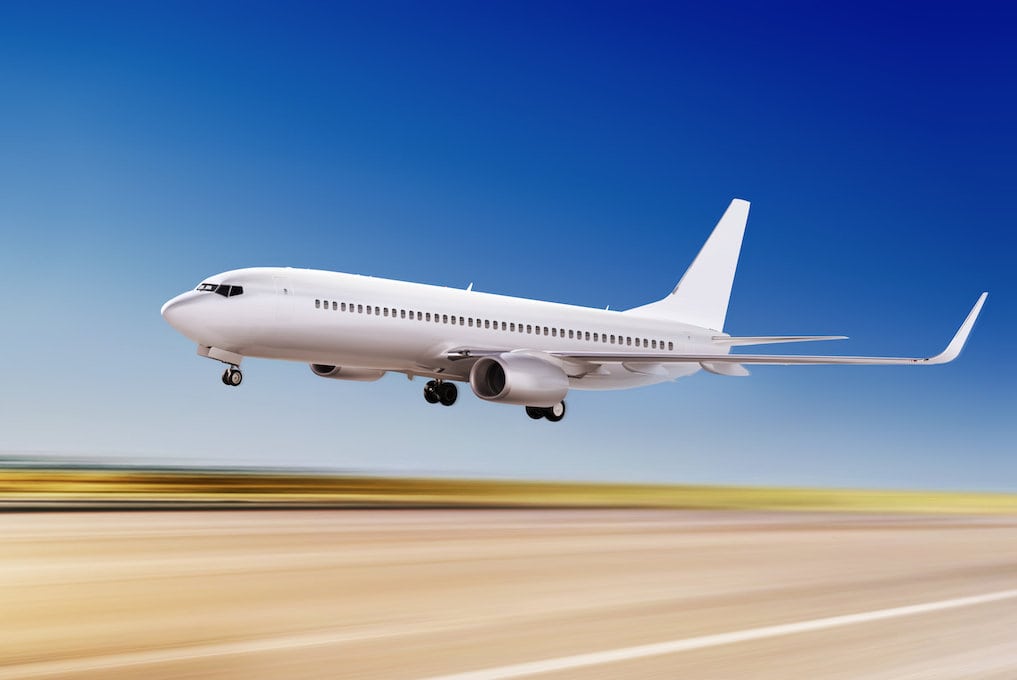 If you are looking to fly at an ultra-low cost, this list of low-cost airlines in Canada is for you. Let's dig in.
---
The Best Low Cost Airlines Canada List
1. Air Canada Rouge
Air Canada Rouge is the brainchild of Air Canada. That means you get to enjoy some cheap pricing you would not find with Air Canada.
With Air Canada Rouge, you can travel to select parts of Canada, Mexico, Europe, Central, South America, and the United States. The prices are pretty budget-friendly compared to what you would have to pay when travelling with the parent company.
Their premium economy section replaces the business class and is better than your usual economy class on other planes. For instance, it has considerably more legroom (good for tall people) and wider seats than is typical of different airlines.
However, there is no entertainment, and you're supposed to find ways of keeping yourself merry as you travel. Suppose you forget to carry an entertainment source; you can always rent an iPad for just $10.
If you aren't travelling to far-flung European cities, you can buy food (pizza) and beverages. Although not to the class most people are used to; it beats out other low cost airlines in Canada because it offers more destinations.
2. Swoop Airlines
Like Air Canada Rouge, Swoop Airlines is an affordable subsidiary of the second-largest Canadian airline, WestJet Airlines.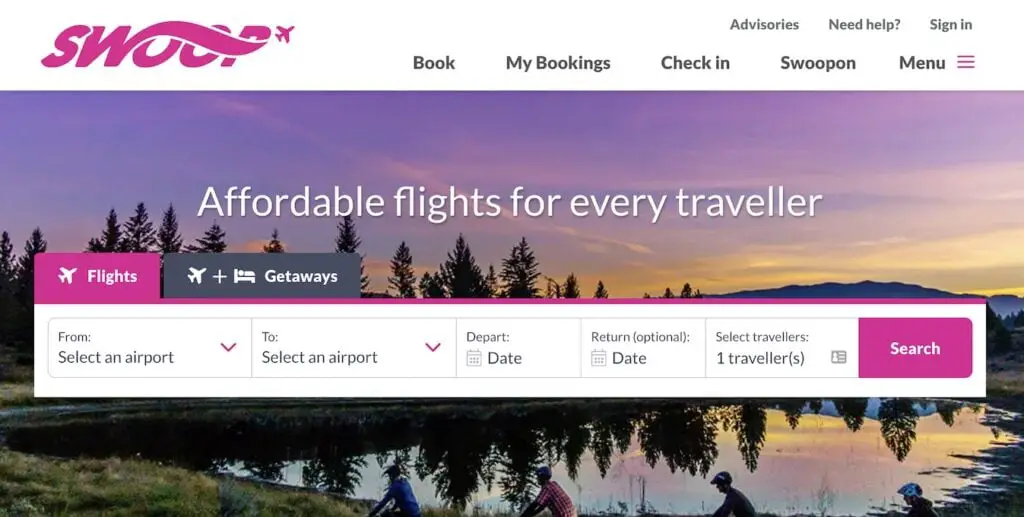 Swoop airlines air tickets will cost you an average of only $100 one way. It isn't as comfortable as the parent company, which has a fleet of large Boeing 737 aircraft that assures you comfort.
Swoop Airlines allows you to carry small items on the flight. However, if you have large carry-on luggage, you will have to pay more for it, thanks to their à la carte pricing for luggage. There are different rates for carry-on items customers choose to bring on board.
The more comfortable the seat, the more money you'll have to pay. If you choose the cheapest seat, you'll have to contend with less legroom. Swoop Airlines is an ideal way to travel if you're alone.
Where does Swoop fly? Swoop flies to destinations in Canada, the United States, Mexico and the Caribbean.
3. Sunwing Airlines
Sunwing Airlines is another cheap flight airline to Canada, the United States, The Caribbean, Mexico, and Central America. Besides that, you can book a charter flight online thanks to their easy-to-use platform.
You can also call their reservation number to book and schedule a flight suited to your needs.
Sunwing Airlines is one of those regional airlines that travels to more destinations in the sunny south than most leisure airlines. That's what makes it such an excellent low-cost carrier.
4. Flair Airlines
Another cheap way to fly to parts of Canada and some places in the US is to use Flair Airlines.
Most of the tickets to those places will cost you under $100 one way. Sometimes you can even get deals that enable you to pay between $29 and $89 for a one-way ticket.
Flair Airlines is the best option if you fly without lots of luggage. It will add to your flight bill if you have lots of luggage, a pet, or a partner/spouse/family/friends you want to sit next to each other.
One of the most popular perks from Flair Airlines was the go-pass perks they rolled out in 2020. Under that deal, a person could pay $700 for several trips over three months. The deal was so popular that it sold out fast. The airline says it will develop similar plans along those lines.
5. Porter Airlines
To wrap up this section of our list of low-cost airlines in Canada is Porter Airlines, which averages $150 for a one-way ticket with several deals lower than that figure.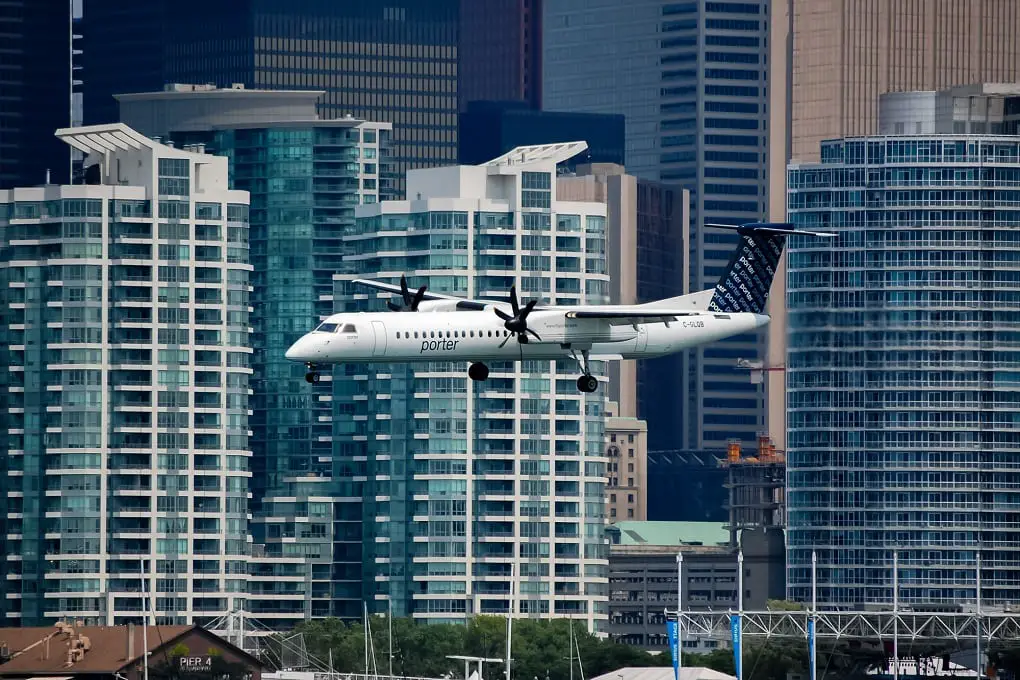 The airline boasts convenient flight destinations in Canada, the United States, and the Americas.
The airline aims to go on an expansion drive to see it start serving way more than three percent of the Canadian customers it serves. It wants to add over 80 new airplanes to make it possible for Canadians to have more cheap flight options.
The complimentary service sets this airline apart from the rest on our list. Travellers can expect free inflight wine or beer, snacks as well as other refreshments. That might give them the edge over the other airlines, no matter the low pricing.
---
New Low-Cost Airlines Canada
6. Canada Jetlines
Another cheap way for air travel in Canada is Canada Jetlines. This is a new low-cost airline in Canada.
As a leisure-focused air carrier, this ultra-low-cost carrier (ULCC) aims to provide Canadians with value vacation choices and convenient travel options.
Eddy Doyle, CEO of Canada Jetlines:
"Canada Jetlines is fully staffed and ready to fly. As a start-up during the pandemic, we emphasize preparation and collaboration and are currently staffed to welcome guests to travel with us." 
Utilizing a growing fleet of Airbus 320 aircraft, Canada Jetlines plans to offer exciting vacation packages to iconic Canadian destinations and beyond. With a projected growth of 15 aircraft by 2025, there will be even more choices on offer in the future.
On September 22, 2022, this new all-Canadian leisure low cost airline had its first inaugural flight from its travel hub at Toronto Pearson International Airport (YYZ) into Calgary International Airport (YYC).
Looking for an affordable and convenient way to travel within Canada? Why not give Canada Jetlines a try next time you're looking to explore our great country?
Canada Jetlines' current travel destinations are Banff, Calgary, Canmore, Jasper, Niagara Falls, Toronto, and Waterton.
7. Lynx Air
Lynx Air is a late addition to the affordable Canadian airlines, having announced its entry into the market in late 2021. It has a fleet of Boeing 737 aircraft that landed in Canada early this year in anticipation of the rollout.
Time will tell how affordable the airline will be and whether it will conveniently disrupt the Canadian cheap flight market. One thing is for sure, though, Canadians won't mind taking advantage of any offers Lynx Air will offer.
---
FAQs: Best Low Cost Airlines Canada 
Does Air Canada Have a Budget Airline?
Yes. Air Canada Rouge is Air Canada's budget airline.
Are Low Cost Airlines Less Safe?
Low-cost airlines may be less comfortable but are ultimately as safe as any other flight. Comfort does not dictate safety for plane flights.
How Do I Get the Lowest Airfare?
To get the lowest fare, you need to have as little luggage as possible before choosing the cheapest option on our list. It also helps if you're travelling alone.
Why Is Flair So Cheap?
Flair has many different offers that allow you to fly on a budget. That's in addition to the fact Flair already has one of the most flexible prices among the low-cost airlines.
What Is the Best Low-Cost Airline?
Porter Airlines takes it for us. The free complimentary drinks and snacks and the owl fares make it desirable.
What Is the New Cheap Airline in Canada?
Lynx Air: On November 16, 2021, during a press conference at Calgary International Airport, Lynx Air (Lynx), Canada's newest "ultra-affordable airline," was unveiled. The new ultra-low-cost carrier (ULCC) aims to provide "cheap fares, flexibility, and choice."
Canada Jetlines: This is another new cheap airline in Canada that was founded in 2020 during the COVID-19 pandemic.
Which is better Flair or Swoop?
In the end, both have their advantages. It's up to you to choose whether to pay more for WiFi and power outlets on Swoop or spend less money by bringing your own food and watching movies on board.
Are Low Cost Airlines Safe?
Yes, they are safe. Budget airlines care about maintaining flawless safety records rather than cutting corners in order to save money. America's Southwest, the world's oldest low cost airline, has never had a crash in its 40-year history, which is roughly 12 million flights.
Is Air Canada low-cost carrier?
Air Canada is not a low-cost carrier. On the other hand, Air Canada Rouge (a subsidiary of Air Canada) is a low cost airline.
Is WestJet a low-cost carrier?
WestJet was founded in 1996 as Western Canada's low-cost airline, and the 2019 Skytrax Airline Awards acknowledged it as Canada's low-cost airline. However, if you want to fly cheaply on a budget, you should consider other ultra-low-cost carriers such as Flair Airlines and Swoop Airlines. 
Does Canada have budget airlines?
Yes, Canada does have budget airlines! In fact, there are quite a few to choose from, depending on your travel needs and preferences.
For domestic travel within Canada, Flair Airlines and Swoop are two popular options. Both airlines offer competitive fares and a wide range of destinations.
Additionally, Air Canada Rouge or Sunwing is a great choice for those looking to fly to the US or internationally on a budget.
For travellers seeking even more affordable fares, Lynx and Canada Jetlines are two newer entrants to the Canadian market that are worth checking out.
So whether you're looking to save on your next trip within Canada or abroad, there's sure to be a budget airline that's right for you.
---
Final Thoughts on Best Low Cost Airlines Canada
Travelling on a budget in Canada has never been easier, thanks to the recent surge in low-cost airlines.
Whether you're looking to fly coast-to-coast or simply hop between provinces, there are now a variety of options available to suit your needs.
While Air Canada and WestJet still dominate the market, new players such as Swoop and Flair Airlines are quickly making a name for themselves.
So, if you're looking for cheap airlines in Canada, be sure to check out all your options before booking. Use this list of low-cost airlines in Canada we have compiled to find cheap flights in Canada.
All in all, flying with a low-cost airline in Canada can be a great way to save money on your travel expenses. However, it is important to do your research ahead of time and to know what to expect in terms of service and amenities. By being informed and aware of the potential pitfalls, you can ensure that your travel experience is a positive one.
Start getting prepared for your trip with the best travel backpack for women and for men.
Bon, voyage!
---
AUTHOR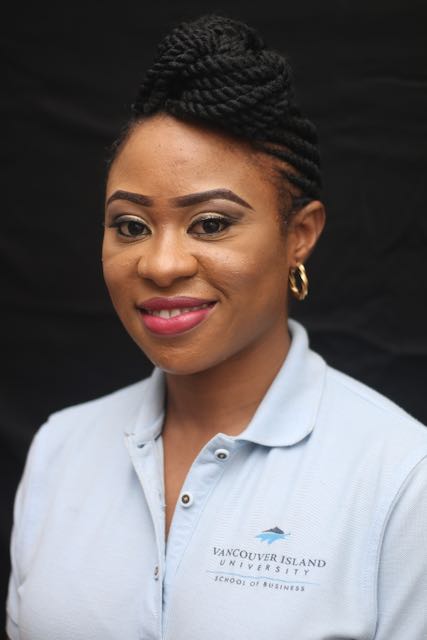 Charee Oisamoje is the founder of CanadaWiz. She leads the editorial team, which is comprised of subject matter experts that aim to create well-researched, highly detailed content related to studying, working, immigrating, and settling/living in Canada as a newcomer.
Charee's personal experiences as a Canadian immigrant and her professional competencies make her uniquely qualified on the subject matter.
With extensive educational credentials, she is an expert at collecting details, verifying facts, and making complex subjects easy to understand.
MBA in Finance
MScIB
CCEA (#CCG 271)
CPA Candidate ✔️CIP ✔️BSc Accounting
Learn More >> About Page
---
✔️ Get up to $3,000 CAD* Fee-Free transfer (or the equivalent of £2,000 in other currencies).
✔️ Earn $75 CAD** for every 3 friends you refer; they'll get a fee-free transfer of up to $800 CAD.
✔️ Multi-Currency Debit Card: Spend abroad without hidden fees.
✔️ Best and real exchange rates and lower fees than old-school banks and other money transfer services.

*Your secret code will be automatically applied.
**USD accounts earn $115 USD for every 3 friends you refer; they'll get a fee-free transfer of up to $600 USD).
---
✔️ Get a $30 welcome bonus for transferring $100* or more.
✔️ Get a 20 GBP welcome bonus for transferring 75 GBP* or more.
✔️ Fast: 95% of transfers are received by the recipient in minutes.
✔️ Better exchange rates and lower fees than most traditional banks and money transfer services.
*This can be achieved over multiple transfers.