British Columbia (BC) is a province located in Western Canada and has some amazing cities to live.
If you're looking for the best places to live in BC, you've come to the right place.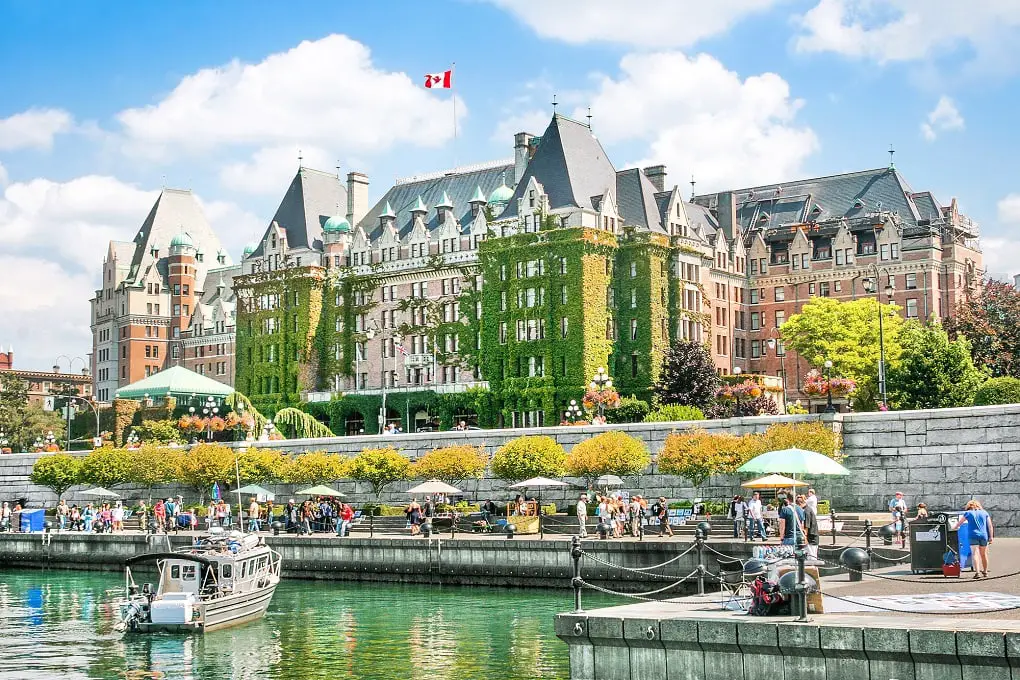 Our list includes some of the most desirable locations in the province, from bustling cities to quiet suburbs.
Whether you're looking for a place with plenty of amenities or want to settle down in a picturesque town, we have something for everyone.
So read on to find out where the best places to live in BC are!
---
Best Places in BC to Live
British Columbia, Canada, is one of the best places to live in North America. It has a variety of different environments and experiences that are worth experiencing.
The best places to live in British Columbia are:
Vancouver
Burnaby
Victoria
Surrey
Nanaimo
Kenowna
Coquitlam
Penticton
Richmond
Whistler
Kamloops
Nelson
Vernon
Now let's dive into the details.
1. Vancouver, BC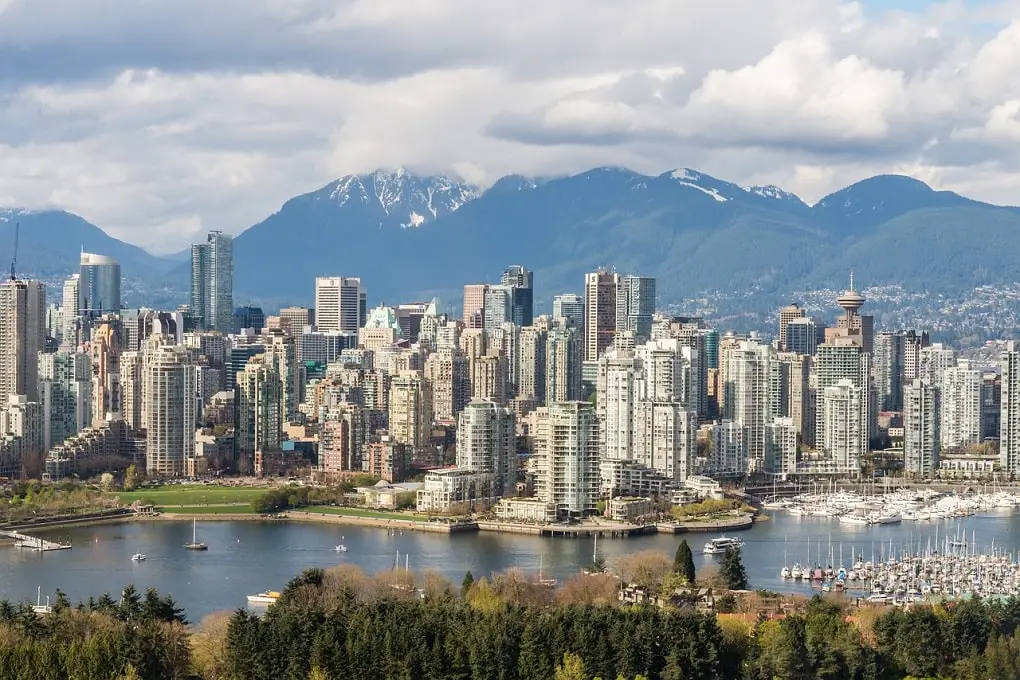 Vancouver is first on the list of best places to live in BC. It is a beautiful city with an amazing setting. It has some of the most breathtaking views and scenery you'll ever find in Canada.
Vancouver also has many cultural and historical attractions, making it an ideal place to live for those who want to try out something new every day.
Vancouver is the most popular city in BC. It has an amazing location on the Pacific Ocean, mountains to the north, and Fraser River to the south.
Vancouver also benefits from being surrounded by beautiful scenery at every turn. You will find that this city offers you everything from nature parks for families as well as some spectacular architecture and museums.
Vancouver is a vibrant downtown city with many amenities. This includes great restaurants, shopping, and parks to visit.
Vancouver's population is healthy and outdoorsy, making it an ideal place for people who enjoy being outside.
2. Burnaby, BC
Burnaby is British Columbia's third most populated city. It has a population of approximately 160,000 people.
Burnaby is home to many parks and the world-renowned Simon Fraser University (SFU). Moreover, it has a diverse range of shopping districts, including Metropolis at Metrotown, Lougheed Mall, Lower Lonsdale Quay, Hastings Street East and Broadway Avenue in Downtown Vancouver.
Burnaby is a suburb in Metro Vancouver and has some amazing places to live.
The top 3 neighbourhoods are:
Burnaby Heights,
Government Road, and
Willingdon Heights
These neighbourhoods have high-quality amenities that most other areas don't have, like parks or green spaces near the neighbourhood.
3. Victoria, BC
Victoria is a small city in British Columbia (BC), Canada, with a population of just over 100,000 people. It is the capital of BC and has its own look and vibe, making it one of the best places to live.
It has historic buildings along the waterfront, and it also provides an excellent quality of life for its citizens.
It has a temperate climate and less rain than Vancouver, making it an attractive place. The Victoria area also offers more outdoor recreation opportunities such as golf courses, hiking trails and beaches.
Another thing that attracts people to the Victoria area is its rich culture with lots of history due to being one of Canada's oldest settlements on Canadian soil.
Victoria constantly ranks high as one of the best places to live on Vancouver Island. There is an international airport located in Victoria.
4. Surrey, BC
Next on the list of best places to live in BC is Surrey. It is the second-most populous city in British Columbia, with a population of more than half a million people. A large population of people of Asian (including Indian) origin live in this city.
Surrey is one of the best places to live in British Columbia, Canada. It has a lot of new developments popping up, and you can move there if you want somewhere with more opportunities.
Surrey offers great housing at an affordable price. Surrey also has easy access for people who work in downtown Vancouver. The Skytrain from Surrey's Gateway Station to the downtown core takes approximately 35 minutes.
5. Nanaimo, BC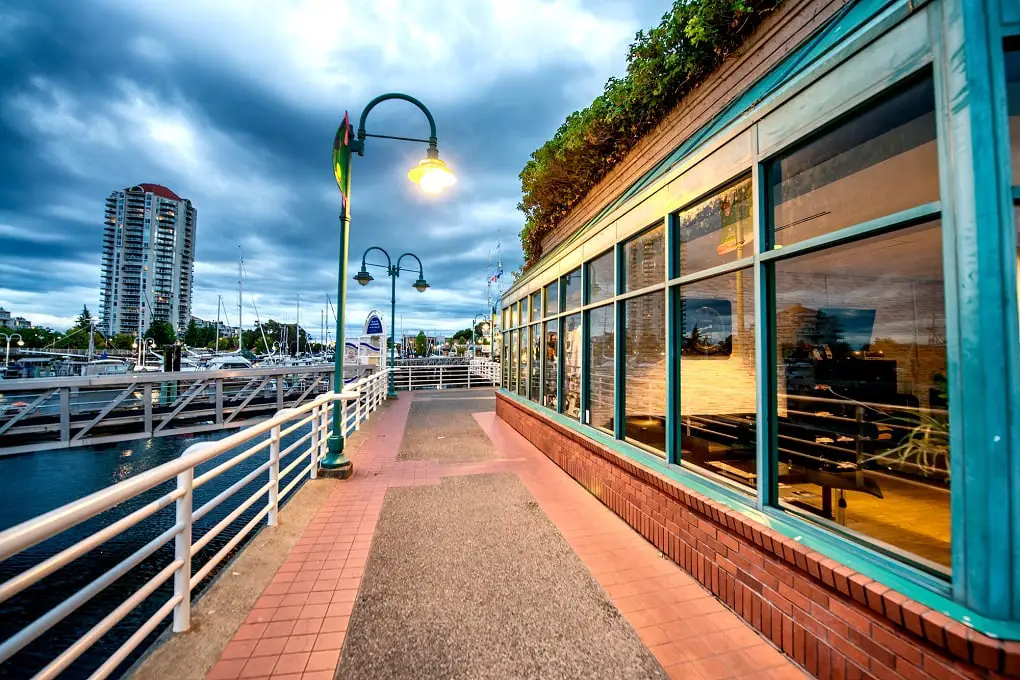 Nanaimo is a coastal city in British Columbia, Canada, with a population of 162,727. It's the gateway to Vancouver Island and has some incredible historic buildings and natural areas.
The economy in Nanaimo has been booming due to the flourishing resource-based industry that includes forestry and mining.
Vancouver Island University (VIU), a popular educational institution for both local and international students, is located in Nanaimo. Nanaimo is one of the most beautiful places in British Columbia and offers some amazing neighbourhoods.
The top three neighbourhoods in Nanaimo are:
Lower Lantzville,
Central Nanaimo and
Uplands.
These are all great neighbourhoods with amenities such as parks, schools, libraries, shopping centres and community centres, to name just a few things worth mentioning about these diverse communities.
Nanaimo is located on Vancouver Island. Thus to get from Vancouver to Nanaimo (or any other city on the island), you will have to either fly via regular airlines or seaplane flights or use BC Ferries (a vehicle and passenger ferry).
READ ALSO>> How to Get from Vancouver to Vancouver Island by Car
6. Kelowna, BC
British Columbia has some amazing places to live. Kelowna, for example, receives over 2,000 hours of sunshine per year and offers an outdoor lifestyle with the best weather conditions anywhere else in Canada.
Kelowna is a thriving city in the province. There are lots of things to do, from visiting wineries and trying local cuisine at restaurants to hiking in one of many beautiful parks or enjoying outdoor activity with family and friends.
Kelowna is one of BC's best cities because it's the home of many beaches, apples, and vineyards. Thompson Rivers University is located in Kelowna.
The city also offers great recreational activities like golfing and hiking trails at Lake Okanagan Resort Park Reserve or Mount Boucherie.
7. Coquitlam, BC
Coquitlam is a city in British Columbia, Canada, with a population of over 139,000. It has a beautiful nature that many residents enjoy and use to escape the hustle and bustle of the big cities.
Coquitlam is a beautiful town in British Columbia with amazing places to live.
These top 3 neighbourhoods within the city are:
Burke Mountain,
Westwood Plateau, and
North Coquitlam.
The local population of these areas ranges from 6200-8100 people each year.
Burke Mountain has an average elevation of 270 meters above sea level, making it perfect for skiing during the wintertime while also being close enough to Vancouver that you can still enjoy their attractions without moving too far away or having much of a commute.
Burke Mountain is ideal for those looking to settle down in a quieter neighbourhood with access to beautiful parks, trails, and an easy commute into Vancouver.
Westwood Plateau is another great neighbourhood because it has an elevation of 250 meters, which makes it perfect for any outdoor activities you may want to partake in during the year and also close enough that you can still enjoy all of Vancouver's attractions without having too much trouble getting there or having a long commute.
North Coquitlam is home to many families looking for something affordable with good schools and access to some beautiful parks. They are close enough to enjoy the city's culture and nightlife.
Some Other Amazing Places to Live Includes:
Cherry Creek
– The Cherry Creek area includes some of the best real estate in all of BC. It offers luxury homes, condos and townhouses at affordable prices.
– There are plenty of amenities to keep residents entertained, from world-class golf courses to swimming pools and parks.
– The area is also home to a number of large shopping centres.
Sunshine Coast
– This community offers various outdoor activities for those who love the great outdoors. There are mountains that offer hiking trails with breathtaking views and numerous waterfalls along the way and oceanfront beaches where you can enjoy nature at its finest.
8. Penticton, BC
A city just one hour south of Vancouver, British Columbia, is Penticton. It's a thriving spot for residents because it has everything that people need and more in the heart of downtown. There are many cafés and restaurants to choose from as well as shopping opportunities at local stores like Save on Foods or Walmart Supercentre.
Penticton also has an airport with direct flights to Toronto, Montreal, Calgary, Seattle-Tacoma Airport (Sea-Tac), Phoenix Sky Harbor Airport (PHX), and Victoria International Airport.
Penticton is a summer fun town in British Columbia. It has an amazing climate and offers some of the best places to live in BC.
Skaha Beach has been named one of the "10 Best Beaches" by National Geographic Traveler Magazine, and it's a favourite beach destination for locals and tourists alike.
It also boasts an impressive number of water activities that people can enjoy on its wide beaches. These include swimming, surfing (wind-supported), jet skiing/wakeboarding lessons with rentals available nearby at Skaha Lake Resort.
9. Richmond, BC
Richmond is a city in the Canadian province of British Columbia, and it has many amazing places to live and has a rich history.
The city is situated in the southwest of Vancouver and is a hub for international travellers. It is home to Canada's second-busiest airport. (Vancouver International Airport – YVR). 
The city has been shaped by the natural beauty of its surroundings and offers plenty of opportunities for outdoor activities.
It also boasts an impressive cultural landscape, including museums, galleries, parks, gardens and even golf courses.
Richmond is to a number of universities as well as several major hospitals.
Richmond is a central location with accessibility to Vancouver, Burnaby and other areas of the Lower Mainland. It's not far from major highways such as Highway 99 or Trans Canada Trail.
It also provides an abundance of recreation opportunities for residents who enjoy outdoor activities like hiking and biking trails in natural parks; beaches on the Fraser River Delta Rainforest Reserve area that are home to eagles and salmon runs; fishing along the coastlines near Richmond Bridgeport Park, where you can catch crabs using your bare hands; and a host of outdoor activities offered in the city centre.
Richmond has a high-quality public transport system and is close to great cultural attractions such as Stanley Park and The Chinatown District. It has an abundance of Canadian Pacific Railway stations, making it easy to get into the city centre. 
Richmond also offers amazing natural landscapes that make up its parks and green spaces.
10. Whistler, BC
Another city on our list of best places to live in BC is Whistler.
It is a year-round resort town in the Canadian province of British Columbia, which attracts tourists from around the world. The Whistler mountain range is home to Canada's most popular ski resort and boasts some of the country's best skiing terrain.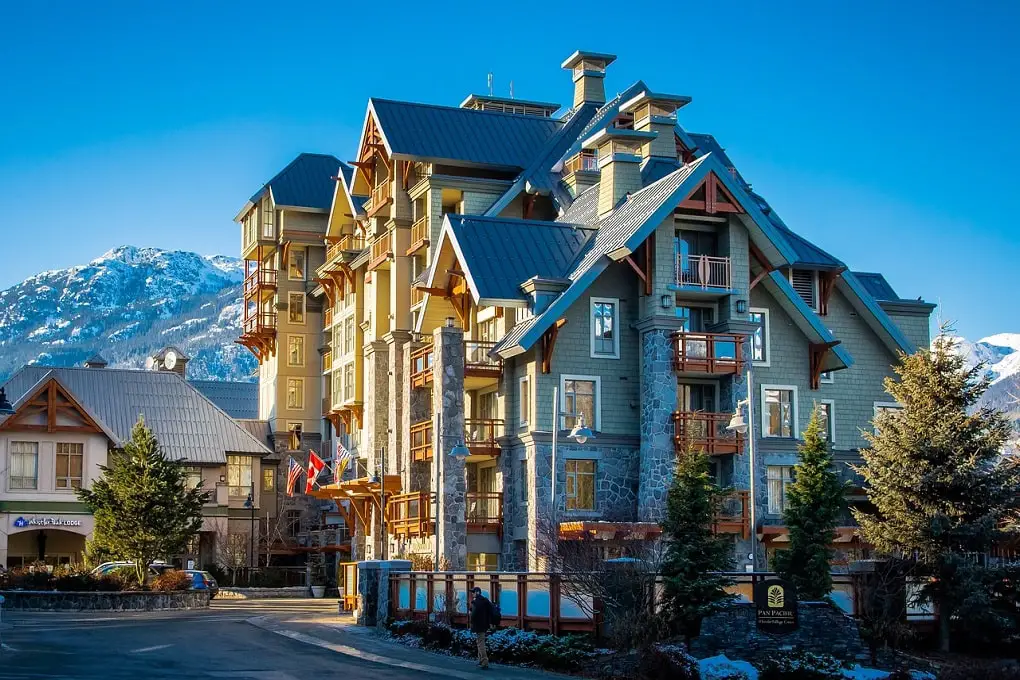 Whistler is a very famous resort that attracts many tourists from all over the world. It's home to the world-class ski resort, Whistler Blackcomb. It also has amazing scenery for those who want to escape into nature.
With six major international events held in Whistler every year, there are plenty of fun activities throughout your stay here!
Canada has many incredible places to live, so it can be difficult for someone who wants to relocate but doesn't know where they want to go.
For those looking for somewhere with an abundance of outdoor activities, beautiful scenery and a friendly community, British Columbia has a variety of great places for you to choose from. Whistler is one of them!
Whistler is the perfect place for snow sports enthusiasts or those who want to get their adrenaline pumping by skiing down mountains with breathtaking views overlooking pristine lakes and forests.
Whistler hosted the 2010 Winter Olympics in Canada.
11. Kamloops, BC
Kamloops is a city in the Canadian province of British Columbia and has some beautiful scenery with over 100 stocked lakes within a 1-hour radius. It also has beautiful parks and an active community that's perfect for those who want to enjoy nature and socialize with friends, family, or colleagues.
The best part about living in Kamloops is that it offers a wide variety of outdoor activities, including hiking and mountain biking. You can also see bighorn sheep roaming the streets with their unique white coats throughout the year.
Additionally, it offers everything from camping grounds to sport fishing spots which can be found throughout its natural landscapes just outside Kamloops City limits. This makes it one of the best places to live in BC because there are many things to do and explore.
British Columbia has many amazing places to live, but one of the best is Kamloops. It's a beautiful city with lots of outdoor activities, and it offers plenty for people who want to make their lives in BC.
Fishing is one of the top things to do here, along with skiing, snowboarding, golfing and hiking; however, there are also some other popular attractions that you can find around this area, such as hot springs or going into nature on an adventure hike through some breathtaking scenery.
12. Nelson, BC
Nelson is a small town located in the province of British Columbia and is home to approximately 11,000 people. It's known for being one of the best places to live. This is due to its natural beauty, proximity to nature and outdoors, as well as its diversity.
It has an abundance of natural beauty with its forests and lakes surrounding it. The city also offers a wide range of recreational activities along with great cultural events throughout each year, which makes Nelson one of the best places to live in BC.
The people are friendly and welcoming, so it's no wonder that Nelson has been ranked by MoneySense magazine as the best place in Canada to live.
British Columbia, Canada, has a lot to offer those looking for an outdoor enthusiast's playground. This province is home to many great places that can provide the perfect lifestyle for any individual or family.
Nelson is considered one of the best places in BC because of its outdoorsy appeal and proximity with Vancouver Island, which provides access to different activities like hiking, kayaking, golfing and more within walking distance from each other!
13. Vernon, BC
Last on our list of best places to live in BC is Vernon. It is a family-friendly city with abundant job opportunities and is also known for its natural beauty and friendly people.
Vernon has plenty of affordable housing options in the form of townhouses, condos, apartments and semi-detached homes.
Vernon is known for its year-round family destination. There are a number of activities that make it the perfect place to live. Vernon has top-notch schools, friendly people, scenic surroundings, and plenty of opportunities for outdoor fun.
In addition to being a beautiful place, Vernon also has many boating options that are available.
For those who love the outdoors and want an easy commute, this is the perfect spot for you.
---
FAQs: Best Places to Live in BC
Where Is the Sunniest Place in BC?
Victoria is surely one of the sunniest places in Canada and the United States. Victoria Gonzales averages 2,203 hours against 2,209 hours at the Victoria Airport and 1938 hours at Vancouver Airport.
Is It Cheaper to Live In BC or Alberta?
The cost of living in Alberta is generally less than that of British Columbia. You may make 22% less each month and still live comfortably in Alberta. Entertainment, housing, dining out, and other expenses in this province are more affordable.
Where Is the Most Affordable Place to Retire in BC?
The Sunshine Coast, Peachland, outside Kelowna in the Comox Valley on Vancouver Island, and the Comox Valley on Vancouver Island are three retirement hot spots with affordable housing and a pleasant climate.
Is Golden BC a Nice Place to Live?
Golden BC is a nice place to live in. There are advantages of living and working there, and it has a small-town atmosphere. It is an excellent place to reside in, but you may have to move to another city for a better job opportunity.
What City in BC Has the Lowest Crime Rate?
Oak Bay, BC, has a low crime rate. With a CSI of 29.81 and a crime rate about half that of Canada's average, Oak Bay is considered one of the safest cities when it comes to the crime rate in Canada and British Columbia.
---
Final Words: Best Places to Live in Bristish Columbia (BC)
If you are looking for the best places to live in British Columbia, now you have a good starting point.
We have provided data on some of the best places to live in BC based on different factors such as affordability, lifestyle, and amenities. Whether you're looking for a big city with all the bells and whistles or a smaller town with a more relaxed lifestyle, we've got you covered.
We hope that this information will be helpful to you as you search for your perfect home. So what are you waiting for? Start exploring today!
READ ALSO:
Have you found a great place to live in BC that we did not mention?
Did any of these locations surprise you? Are there any that you would add to the list?
Let us know in the comments below!
---