Vancouver Island University (VIU) is a Canadian university located in Nanaimo, British Columbia (BC). The university offers over 65 undergraduate programs, with a wide range of offerings including business administration, communications studies, kinesiology and health science among many more.
Admission to VIU is competitive and requires students to have achieved at least an 80% average in their previous courses.
---
About Vancouver Island University
Vancouver Island University (VIU)  is a Canadian public university founded in 1969 with the main campus located in Nanaimo, British Columbia. It was initially called Malaspina College, and since it was established, it has gone through several educational transformations before finally transitioning to Vancouver Island University (VIU) in April 2008. 
VIU offers over 120 programs and degrees such as diplomas, bachelors, masters, and certificate programs across disciplines, making it a center for qualitative learning.
The major areas of study in the university are Health Sciences, Arts, Design & Performing Arts, Humanities & Social Science, Education, Business & Management, Human Services, Science & Technology, Tourism, Trades & Applied Technology, Recreation & Hospitality, and Co-operative Education. 
The university also offers Exploratory University Studies (EXPO), Academic and Career Preparation and High School Equivalency (ABE), Professional Development and Training, and English Language (ESL) programs. Besides all these, Vancouver Island University offers several online courses in various subjects and levels.
The University sends students to several industrial workshops to acquire practical training. It also organizes skill development programs to acquaint students with advanced technologies while also offering placement assistance and career guidance.
Vancouver Island University has students from across the world. The University is located in Nanaimo, which is in the central part of Vancouver Island and is one of Canada's most student-friendly cities. The Nanaimo campus is the university's main campus. The other campuses are the Powell River campus and the Cowichan campus. 
All three campuses are equipped with state-of-the-art infrastructures so that students can get the best learning experience. From hi-tech laboratories, libraries containing over 230,000 books, art studios, computer labs, mathematics centers to high-speed Wi-Fi connectivity on campus, the university is filled with many fascinating facilities. 
Vancouver Island University (VIU) is fully accredited by the Ministry of Advanced Education, Skills & Training, British Columbia in Canada.
In addition to academics, the University is also a home for extra-curricular activities. The three campuses are located in beautiful and culturally diverse coastal towns where students can also enjoy hiking, camping, surfing, etc., while they study.
---
Vancouver Island University at a Glance
| | |
| --- | --- |
| Year Established | 1969 |
| University Type | Public |
| No. of Campuses | 3 |
| No. of residence buildings | 10 |
| Mode of Program | Full-time; Part-time; Online |
| Total Number of Students | 14500 |
| Percentage of international students | 18% |
| International Students Web Link | https://international.viu.ca/ |
| International Students Application Portal | https://students.viu.ca/Inted/pub_main.asp |
| Application Fee | $150 (CAD) |
| Tuition Fee | International Students: $8,340 – $27,105Canadian Students: $1,172 – $10,710 |
---
VIU's Campus
Vancouver Island University has three campuses and one training center in Parkville.
The main campus is the Nanaimo campus, while the other two VIU campuses are the Cowichan and Powell River campuses.
 The Nanaimo campus spans 92 acres of land, including Japanese gardens and lush stands of forest.
The Powell River campus is in a  vibrant and compact environment and has a friendly and supportive community.
The Cowichan campus is the university's newest campus. It offers a wide range of programs in a modern LEED Gold Certified facility.  
Parksville-Qualicum Centre offers career and academic preparation, professional development and training, university programs, and rich ElderCollege programs.
VIU has a 100,000-square-foot library with paper and online materials and a theatre (The Malaspina Theatre) that can house up to 294 people. 
The university has several student clubs such as partisan, activist, course unions, religious, and general interest.
---
Vancouver Island University (VIU) Courses and Programs
Vancouver Island University (VIU) has 67 undergraduate programs in humanities, social science, business, management, health science, technology, education, and more.
The university generally offers two advanced diploma programs, nine graduate diplomas, four post-graduate diplomas, one graduate certificate, and six masters programs.
They also have non-credit and certificate programs under the Academic and Career Preparation and High School Equivalency (ABE) program.
In addition, VIU also offers Exploratory University Studies (EXPO), which opens up students' opportunity to explore further options while taking university credit courses.
The university also offers an intensive 20-month full-time Masters of Business Administration MBA program, which includes courses in Finance, Accounting, Management, Marketing, Technology, and Research. It is then followed by a 4-month internship and a business project. The MBA program commences with a 3-week Foundation of blended coursework which involves all students. 
---
Vancouver Island University (VIU) Admission Requirements
International students can get admitted to Vancouver Island University under one of the following conditions:
Winning an international scholarship or academic competition
Direct applications through paper or online applications
Inter-governmental agreements sponsorship
Applying through authorized representatives
Exchange programs between institutions
---
Admission Requirement to Study English Language in the English Language Centre
All prospective students must:
Take and complete an ESL language assessment test or an equivalent test.
Hold a study permit or be an international visitor.
---
Admission Requirements into Undergraduate Academic and Vocational Programs
Applicants who don't have English as their first language or who completed their education in a country where English is not the official language have to prove English language proficiency. 
If you meet all academic requirements except the English language requirement, you may be granted conditional acceptance to VIU. Hence, your admission will remain pending till you complete VIU's English Language Centre program (level UP5).
Some academic programs may have specific program admission requirements and prerequisites, so be familiar with your particular program's requirements.
For direct entry into an academic program, International students who are BC high school graduates must have at least a "C" grade in English 12. 
---
Admission Requirements into Graduate Programs
Minimum of "B" average in the final two years of a Bachelor's degree.
Meet one of the VIU English language requirements for Graduate programs highlighted below
This program requires no GMAT or GRE scores.
---
Language Requirements for International Students
English Language Requirements for Academic Programs:
| | |
| --- | --- |
| Tests | Minimum score |
| IELTS  | 6.5 (with no band below 6.0) |
| TOEFL Paper Based Test | 550 (with no section under 56) |
| TOEFL IBT | 88 (with no section under 20) |
| Cambridge Certificate of Proficiency in English (CPE) | Overall score: 176  |
| Cambridge Certificate of Advanced English (CAE) | Overall score: 176  |
| CAEL | 60 |
| English Studies 12 (BC) | Minimum of "C" grade. |
| International Baccalaureate English A1/A2 | Standard Level (SL)/Higher Level (HL) or grade 3 or higher |
| Pearson (PTE) | 60 (with no section below 60) |
| VIU English Language Centre | Complete University Preparation Level 5 successfully. |
| Advanced Placement (AP) English Language and Composition or English Literature and Composition | Minimum of Grade 2 |
| General Certificate of Secondary Education (GCSE) | A minimum grade of C or 4at the O-level English  |
| For applicants from an acknowledged university where English is the official language of instruction. | A minimum grade of C in six credits of post-secondary English composition and literature. |
English Language Requirements for Admission to Graduate Programs:
| | |
| --- | --- |
| Test | Minimum score |
| IELTS | 7.0 (with no band lower than 6.5) |
| TOEFL iBT | 93 (with no band lower than 20) |
| CAEL | 70 (with no band lower than 60) |
| Cambridge Certificate of Proficiency in English (CPE) | Overall score: 185 |
| Cambridge Certificate of Advanced English (CAE) | Overall score: 185 |
| VIU's English Language Centre  | Complete Graduate Preparation (Grad Prep) program successfully. |
Vancouver Island University accepts international students applications if they apply directly to the university or through authorized representatives. Students could also be a part of an exchange program between institutions, sponsored through the Government, or winners of competitions and scholarships.
---
How to Apply to Study at VIU
This application process is for international students, i.e., students who are neither Canadian Permanent Residents nor Canadian Citizens. Vancouver Island University recommends that you submit your application online.
1. After checking the requirements for your particular program, gather all your necessary documents below and scan them:
English language proficiency proof
Your official transcripts
A copy of your passport (this should be on a photo page.
A copy of your High School Graduation Diploma if available.
If available, a copy of your University Degree. 
If any of your documents are in any language other than English, add a certified English translation of the document.
2. Fill the online International Application for Admission form. Filling the form involves you uploading your documents and choosing your preferred payment method.
3. Pay the non-refundable $150 (CAD) Application Processing Fee. The preferred methods are Visa, American Express, and Mastercard, but you can also pay through electronic transfer, cheque, and money order. 
4. After submission, you will be sent an acknowledgment email which will contain the receipt of your payment.
5. Send the original or certified translations of your transcripts to this address:
International Admissions
Vancouver Island University
900 Fifth Street
Nanaimo, BC V9R 5S5
Canada
---
Vancouver Island University Tuition Fees
Average tuition fees:
| | |
| --- | --- |
| Undergraduate Programs | $12,510 CAD per year |
| Post Graduate Program | $18,750 CAD per year |
| Residence Room (on-campus) | $8,100 CAD per year |
---
Living Expenses
The overall cost of attending Vancouver Island University covers the tuition fees and the cost of living. These vary with student preferences. However, all students living on campus have to make a room deposit of 500 CAD and a security deposit of 250 CAD. The table below shows the average expense you'll incur yearly as a VIU student.
| | |
| --- | --- |
| Fees/Items | Annual Cost (CAD) |
| Undergraduate international students tuition and fees | $16,690 |
| Graduate international students tuition and fees | $25,000 – $48,000 |
| Meals and Residence  | $10,200 – $13,200 |
| Books | $600 – $1,300 |
| Transportation | $670 |
| Health insurance and dental insurance | $1,040 |
| Other Expenses | $1,300 |
---
Accommodation Options at VIU
Campus Residences
The Nanaimo campus houses ten student residence buildings. They are located close to classes, cafes, and recreational facilities. Apart from the convenient location, staying in a VIU residence allows you to build lasting relationships with other students as over 500 students stay in Vancouver Island University residences every year. 
The building styles range from single private rooms with semi-private bathrooms to shared double rooms. Some rooms are also designed specially designed to meet the needs of students with disabilities special needs. 
Facilities include kitchen facilities, laundry facilities, common areas, study spaces, Wi-Fi, cable TV, microwave, freezers/fridge, and a 24-hour front desk. 
Students can also purchase meals in the campus's two cafeterias, which are open weekdays during school hours.
Homestay
VIU Homestay is another accommodation option. It affords the chance to live with and be a part of a Canadian family. The host family will provide you three meals a day and give you a supportive and balanced environment where you can learn and practice your English language skills and adapt to the local culture. 
The host family treats the homestay student like a family member, and the student helps around the home like the other family members. Overall, homestay is an incredible experience where you can learn about Canadian culture and customs and make long-standing friendships.
Off-Campus Housing
If you are staying on campus, the housing market can be a little challenging to navigate. Finding the perfect home can take time, and you may go from apartment to apartment before finding the right fit. 
Nanaimo has different types of apartments, shared housing opportunities, and room and board options. You can rent an apartment before you arrive in Canada through online search and communication on sites like Craigslist, Kijiji, and Used Nanaimo. However, you should be cautious before you finalize any agreement or make deposits.
---
Student Financial Aids and Scholarships
The number 1 challenge of prospective international students is financial constraints. To ease the burden, Vancouver Island University help to facilitate over $70,000 in funding every year to support VIU Education Abroad programs. 
International students can qualify for grants, scholarships, grants, external aids, and student jobs. 
The scholarships available to international VIU students are:
---
Vancouver Island University Scholarships and Awards
Scholarship Name
Eligibility Criteria
Amount Awarded
Ann Buchanan Liberal Studies Award
It is awarded to students who are single parents and will be taking a Liberal Studies Abroad program.
$1000 
International Internship Award
It is awarded to students participating in at least a three-month internship program in a developing country in the global south. 
Students whose internships align with CIDA priorities and themes preference. 
$3000 
Morvah Award for International Development
The award is available to Canadian students who are working on short-term projects overseas. Requirements are based first on life goals and overall abilities, then GPA. 
$500 
Patricia Forbes Awards for Professional Development
It is awarded to students in Recreation & Tourism programs who will be taking part in professional development activities, like a research project, attending a conference, taking professional training, or taking a semester abroad.
Two awards and $1000 each
Tony Sorchy Study Abroad Award
Available to a Global Studies student who is studying abroad and appreciates global learning.
$1,000
Koki Sato International Scholarship

This is awarded to both full-time Canadian students and international students. Eligibility is based on academic excellence and leadership demonstration in international and community development and relations.
$300 
---
Education Abroad Awards and Stipends
Scholarship Name
Eligibility Criteria
Amount Awarded
QUEEN ELIZABETH II DIAMOND JUBILEE SCHOLARSHIPS

For Canadian VIU students who want to undertake international internships.
Awards scholarships to international students from eligible countries to study in Canada at VIU in a graduate program or as a short-term visiting scholar.
It varies
Exchange Award 
Available to students going one or two semesters for a VIU Exchange program.
$2,200
Global Citizens Network & Stipend Program
You can earn Global Citizens Network Stipend hours while you are at home and discovering the world.
You need at least nine-semester credits and to be in "good standing" at VIU to be eligible.
$500
Exchange Agent Stipend Program
VIU Exchange Agents are VIU Exchange Program ambassadors. They help prospective exchange students with information about exchange possibilities through social media campaigns, info sessions, classroom presentations, and other events.  
They either earn a $500 reward for a brief summer session or a $750 stipend per full semester. This is after completing the Stipend Activities. 
$500 or $750
---
External Aids
The awards in this category include:
BC Study Abroad Scholarships & Awards, 
Canadian Bureau for International Education (CBIE) scholarships, 
Federal Government Scholarships and Student Research Scholarship and Awards.  
Student Research Scholarship and Awards include:
The BC Student-Led Research Program
Canadian Institutes for Health Research (CIHR)
NSERC (Natural Sciences & Engineering Research Council)
Jessica Wilde Fund for Conference Participation
Warsh Law Corp Undergraduate Research Award
Social Sciences and Humanities Research Council (SSHRC) for SSHRC-related fields
---
Vancouver Island University Placements
Graduates from MBA and MSc IB can stay back and work in Canada between 14 months to three years. Students with these programs have a better chance to advance their programs.
Every spring, the VIU career center hosts career fairs where students can meet with recruiters. In 2014, 2,053 employers partnered with VIU to provide work-integrated learning opportunities for students. The average VIU MBA graduate's salary is $31,000 – $60,000 CAD per annum.
---
Graduate Outcomes and Alumni Perks
VIU has many notable alumni. These alumni enjoy perks like:
Exclusive access to the VIU library.
40% off the standard rate at Sparkling Hill Resort & Spa.
Insurance and car rentals discount
25% discount on Royal BC museum entry
Special access to VIU Athletics & Recreation Services.
Alumni also get discounts at the VIU Campus Store. 
Now let's look at some notable alumni of the school:
Rachel Blaney – Canadian Member of Parliament (MP)
Paul Manly – Member of Canadian Parliament (MP).
Kevin Borserio – He's the director of the Skidegate Haida Immersion Program (SHIP).
Victor Blasco – A Spanish footballer.
---
---
FAQs on Vancouver Island University (VIU), British Columbia
---
Learn More About Studying in Canada
Learn all there is to know about studying in Canada as an international student. Start with our free student study in Canada guide. It covers every detail from gaining admission into your favorite university to managing your finances.
SEE ALSO:
---
AUTHOR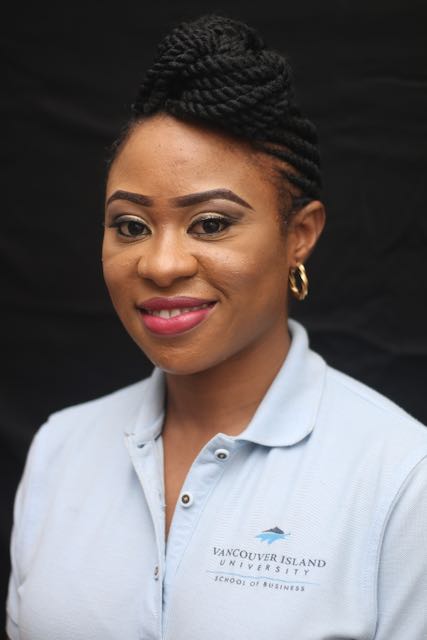 Charee Oisamoje is the founder of CanadaWiz. She leads the editorial team, which is comprised of subject matter experts that aim to create well-researched, highly detailed content related to studying, working, immigrating, and settling/living in Canada as a newcomer.
Charee's personal experiences as a Canadian immigrant and her professional competencies make her uniquely qualified on the subject matter.
With extensive educational credentials, she is an expert at collecting details, verifying facts, and making complex subjects easy to understand.
MBA in Finance
MScIB
CCEA (#CCG 271)
CPA Candidate ✔️CIP ✔️BSc Accounting
Learn More >> About Page
---
✔️ Get up to $3,000 CAD* Fee-Free transfer (or the equivalent of £2,000 in other currencies).
✔️ Earn $75 CAD** for every 3 friends you refer; they'll get a fee-free transfer of up to $800 CAD.
✔️ Multi-Currency Debit Card: Spend abroad without hidden fees.
✔️ Best and real exchange rates and lower fees than old-school banks and other money transfer services.

*Your secret code will be automatically applied.
**USD accounts earn $115 USD for every 3 friends you refer; they'll get a fee-free transfer of up to $600 USD).
---
✔️ Get a $30 welcome bonus for transferring $100* or more.
✔️ Get a 20 GBP welcome bonus for transferring 75 GBP* or more.
✔️ Fast: 95% of transfers are received by the recipient in minutes.
✔️ Better exchange rates and lower fees than most traditional banks and money transfer services.
*This can be achieved over multiple transfers.