As a computer science student, you cannot underestimate the need for a powerhouse laptop. It is a vital part of your learning experience. The truth is, you can't successfully pull through any programming task if your laptop is quite basic, this is where getting one of the best laptop for computer science students comes in.
You'll be constantly frustrated trying to program with a basic laptop as the laptop would either consistently hang or crash- occasionally. To prevent this major setback from giving you headaches, here are some of the powerful laptops you should invest your money in (including cheap and affordable options). 
Trust the process, because these are the best laptops for computer science students, you'll enjoy using any one of these laptops to the fullest. 
---
Best Laptops for Computer Science Students – Readers Choice
| | | | | | |
| --- | --- | --- | --- | --- | --- |
| NAME | PROCESSOR | RAM | DISPLAY | STORAGE  | GRAPHICS CARD/ GPU |
| 2020 Apple MacBook Air with Apple M1 Chip | Apple M1 chip, 8-core CPU | 8GB | 2560 x 1600 resolution retina display | 256SSD | 8-core GPU, delivers 5x graphics speed. |
| Razer Blade 15 Base Gaming Laptop 2020 | 10th Generation Core i7 6core processor | 16GB 2933MHz dual-channel memory, expendable. | 15.6" Smooth 120Hz Full HD display, 1920 x 1080 resolution. | 256GB Pcle SSD | NVIDIA GeForce GTX 1660 Ti graphics. |
| Microsoft Surface Book 3 | 10 Generation Intel core i7, quad-core powered processor | 32 GB  | 13.5" or 15" pixel sense touchscreen display | 256SSD | NVIDIA GeForce GTX GPU |
| Microsoft Surface Pro 7 | 10th generation Intel Core i5, Quad-processor  | 8GB LPDDR4x | 12.3" pixel sense display, 2736 x 1824 resolution | 256 GB | Intel Iris Plus Graphics.  |
| ASUS ZenBook 13 Ultra-Slim Laptop | Intel Corei7-1165G7 | 16GB LPDDR4X RAM | OLED NanoEdge Bezel Display | 512GB | Intel UHD Graphics |
| Acer Aspire 7 Laptop | 9th Gen Intel Core i5-9300H processor | 8GB DDR4 2666MHz | 15.6" Full HD display with 1920 x 1080 resolution | 512 GB PCle NVMe SSD | NVIDIA GeForce GTX 1650 with 4GB of dedicated GDDR6 VRAM |
| Alienware m15 R3 Gaming Laptop | 10th Gen Core i7-1050H 6core processor.  | 16GB DDR4 | 1080 FDH display with 7 minutes response time.  | 512 GB SSD | NVIDIA GeForce RTX 2060 |
| Acer Predator Helios 300 Laptop | 10th Gen Corei7-1050H 6core processor  | 16GB DDR4 2933 MHz | 15.6" HD IPS Display with 1920 x 1080 resolution | 512GB PCle NVMe SSD | NVIDIA GeForce RTX 2060 with 6GB dedicated GDDR6  VRAM |
---
Buying Guide: Best Laptops for Computer Science Students
As a computer science student, searching for the best laptop for programming might seem like a burden. I mean, with so many best laptop for computer science students being released yearly with seemingly different functions to offer, choosing a laptop for your computer science journey might be a confusing endeavour. That's why we put together this section for you; to clear the confusion and help you simplify the shopping-for-laptop task.
Below are the specific features you should look out for when shopping for a laptop for computer engineering. Read on, and you'll thank us later. 
Display:
No doubt, computer science majors can bear witness that computer science projects are time-consuming. Hence, it requires you to sit in front of your screen for prolonged hours, trying to get the project right. 
Now, if your laptop has poor display features, you'll find your projects excruciating to do. You need to ensure that a laptop has at least 13" matte display with a minimum resolution of 1920 x 1080. 
That way, you won't suffer from eye strain. Also, if you need to work at night, opt for screens equipped with acute brightness and a backlit keyboard. These features always come in handy when working in the dark or at night. 
Processor:
The Processor is another important feature you should consider when you go best laptop for computer science students hunting. The type of processor a laptop should have must make data operations flow smoothly.
You shouldn't have to suffer from your laptop crashing or hanging every time you launch a programming software. 
In light of this, opt for best laptop for computer science students that are equipped with either Intel processor (specifically inter-core i5 or core i7) or AMD RYZEN 7 or 5. These processors ensure that your data is secure. 
RAM:
RAMs are the feature that ensures you can run multiple software smoothly and without lags. It contributes greatly to the multitasking ability of your laptop.
However, not all RAM size is good for programming. As a computer science student, you have no business browsing through laptops with 2 or 4GB RAM. Unless you want to use them for minor functions, you can go ahead. 
But for the sake of your field, 2GB or 4GB RAM laptops would frustrate you. It would lag and hang every time you try to run multiple programming software at a time. 
The ideal RAM size for a programming laptop is 8GB or 16 GB RAM. Surely, you can opt for laptops with higher RAM if you have the budget for it. 
Storage:
Storage is a huge factor when determining which best laptop for computer science students to buy for your programming endeavours. You'll work on a lot of projects as you advance in your computer science career. Surely, you wouldn't want to delete these projects as you go. 
You'd need to store them and keep them safe. Also, you'll need to update the software you work with from time to time. The truth is, these updates eat up a lot of space. Hence, you'll need a laptop with a lot of storage space. For computer science folks, best laptop for computer science students with at least 256GB SSD or 1TB HDD are good for you. 
Nevertheless, you can always opt for higher if you can. Also, SSD storage seems to be better than HDD as SSD grants you the access to open a lot more tabs compared to HDD storage. Notwithstanding, both storages are good and it all depends on your preference. 
Graphics Card:
If you want to get clear and crisp images that are detailed, too, then the graphics card or GPU is another feature you want to pay close attention to. Intel and RYZEN processors always come with their preferred integrated graphics card.
But trust me when I say that the graphics card in high-end laptops always delivers sharp text, crisps images, and that is impressive. 
Now, when observing the features of a laptop, opt for best laptop for computer science students with integrated or dedicated graphics cards or GPU with a minimum of 4GB. That's the only way you'll enjoy programming on your laptop. 
Weight:
Computer Science majors would be required to move from class to hostel, to library (basically everywhere on campus) with laptops in their backpacks.
If you prefer to carry a sling bag everywhere you go, then you'll need to pay attention to the weight of the laptop you intend to buy. It would be best if you invest in Ultra-slim or Ultra-light laptops. 
Aside from the fact that they are weightless, they mostly come with sleek, luxurious designs. 
Battery:
What's a laptop without a good battery? If the laptop doesn't afford you the luxury of working for long hours before it shuts down, you probably shouldn't invest in it in the first place. 
Only consider best laptop for computer science students that'll give a minimum of 7-8 hours of power. Also, ensure it has battery saver options to help you prolong the battery life span further. 
Operating System:
The greatest operating system that most programming laptops use these days are windows, Linux or Mac. While these three operating systems are good, Mac operating system might be limiting in minor ways.
For example, Mac OS can't operate all of windows programs. Hence, if you need to run a program that can only run on windows, you know that can be problematic. 
However, it is a bit rare to find that Mac OS won't run some windows programs. Also, you're in luck if you can afford a system that operates both Windows and Linux. You're in for a real treat! 
---
In-depth Review: Best Laptops for Computer Science Students
Of course, you're familiar with the almighty Apple brand. It is easily one of the leading brands in the tech industry. They never fail to deliver cutting-edge features. 
The best part is that every new product shows a drastic improvement from the previous one. That is part of why we're so thrilled to introduce the 2020 Apple Macbook Air to computer science students. 
Trust me when I say it's the ultimate beast (in a good way) when it comes to programming. It is just what you need to have a smooth and enjoyable time in school as a computer science student.
For starters, Apple thrills us with its incredibly thin and light design. You'd throw this in your backpack, and it wouldn't feel like you have anything in your backpack. When it comes to its functions, Apple further blows us away with its innovative M1 chip. This chip changes the game for Macbook entirely as it is the next big thing for those who want to specialize in the machine.
Thanks to the chip, it is charged with the most advanced neutral engine that allows for 9x the speed in machine learning. The 8-core CPU grants the laptop the liberty to take on an intensive task with 3.5x the speed you'll ever see on other laptops. 
As a computer science student, if you're obsessed with your computer processing information with flash speed, then this bad boy here is for you. Did we forget to mention it? The battery life will last you up to 18 hours. Now, you can work for extended hours on the system without worrying about the battery's life span.
---
When choosing a laptop for your course and you're in doubt, choose a good gaming laptop like this Razer blade laptop model. It has all the makings of a powerful laptop, making it ideal for computer science, machine learning and other tech-related stuff. Let's take a sneak peek at the core features that make it an ideal laptop for computer science students. 
You should know that gaming laptops aren't only ideal for playing games. Their features make them an interesting choice for learning as well. The manufacturers framed this laptop with anodized aluminum, which is responsible for its durable and sturdy frame. 
Furthermore, the brand protected this laptop from minor scruffs and scratches. The idea to electrochemically bond the black colour to the aluminum turned out great. It is responsible for preventing minor scratches from dominating the body of the laptop.
The processor of this laptop is also impressive. It uses a 6-core 10th generation Intel core i7 processor. As a result, you can run any software smoothly. The 5.0GHz intel turbo boost ensures that the laptop doesn't slow down any project you execute with the laptop. It delivers top speed. 
There's more! This laptop is clearly not lacking in storage space. With an expendable 16GB RAM and 2933MHz dual-channel memory, coupled with the 256GB PCle SSD, there's enough room on the laptop to save your project. It's now left to you to organize these projects to easily locate them. 
---
Here's another excellent laptop for computer science students. Consider this laptop as Microsoft blessing you with another gift that makes your computer engineering a lot easier and smoother. Outside the walls of computer engineering, this laptop was also designed to function as a business and gaming laptop. 
It can be whatever you want it to be. So, if you feel the need to take a break while developing software or working on your professor's assignment, you can play any game of your choice with it. 
But aside from that, this laptop has some insanely built-in features that'll blow your mind away. This is crazy, but it functions with a 10th generation quad-core processor. Consequently, it has a 30% higher speed than the previous surface book 2 models. 
The processor makes it easy for users to multitask on the system. While you work with a programming language, you can do other things like editing a video, playing a game in between, chatting with your friends on social media, etc. 
When it comes to graphics, Microsoft deploys the NVIDIA GeForce GTX graphics processing unit. Hence it's not surprising that the text and images are quite clear and super sharp. The visuals you'll get on this Microsoft laptop are quite impressive. To top it all up, Microsoft enriched this laptop with pixel sense high-resolution touchscreen for your pleasure. 
Want to know the best part? Here it goes; you can turn this laptop into a tablet. This is crazy as you don't necessarily need to go around with the keyboard. If carrying the whole laptop is starting to burden you, simply detach the screen, deploy the on-screen keyboard and unleash your creativity at your convenience. 
---
This is another excellent laptop from Microsoft that guarantees you prolonged hours of battery life. But of course, like the previous ones we have reviewed, there's also so much more about these laptops than meets the eye. Let's take a quick dive. 
As one of the great laptops for computer science, the Microsoft Surface Pro 7 brings a lot of value to the table, especially for college students in the field. For starters, it is one of the best laptops for cool kids. Of course, this is all thanks to its sleek design, versatility and ultralight weight. As a college student, you shouldn't get a laptop that's heavy. The reason? Your backpack would be strapped to your back all day long. If your laptop is heavy, your shoulders might start to suffer from intense aches. 
What's worse? Your bones could start to shift under pressure, or you could get a dislocated shoulder eventually. Hence, you want to ensure the laptop you buy is lightweight. As previously stated, this Microsoft laptop checks the "lightweight" box. In fact, it is ultralight. 
If the display quality of your screen is something you fancy a lot, you'll have a lot of fun with this laptop. With a screen size of 12.3", pixel sense display and resolution of 2736 x 1824, you'll find working with this laptop pleasant. The colours, images and text are just right. 
More so, you can convert this versatile laptop into a tablet. To complement the tablet position of this laptop, Microsoft included a surface pen. With its 10 point touch screen, you'll enjoy designing, programming, creating, etc., on the laptop. 
---
We love Ultra-slim laptops. I mean, the Ultra-slim design gives it a luxurious and classy look like this ZenBook 13 laptop from Asus. It is Ultra-slim and very portable. When you toss it into your bag, you most likely won't feel like you're carrying anything in your backpack. 
Aside from its amazing portability, the visuals on this laptop are awe-inspiring. It deploys the OLED NanoEdge display that redefines what colours should look like on a screen. Trust me when I say that you'll be awestruck by how vivid and bright the colours are. And the images? With the HDR enhanced realism aided by deep blacks, you'll get high-quality images. 
Like the majority of powerful laptops, the Asus ZenBook has long battery life. It has the capacity to render up to 13hours of battery. But you can extend the battery life of this system via the battery saver option. The best part is that this laptop charges fast. Hence, if you use up all the batteries working on a project, it can charge up to 60% in 49 minutes. Impressive right?.
When it comes to the build quality of this laptop, the manufacturer designed it to meet the military-grade (MIL-STD-810G) standard for durability. You may be wondering what material the Asus team designed this laptop with. Well, here's a response; the manufacturer built this laptop with solid metal. Thanks to its durability, you can travel anywhere you want to with it. 
---
In the name of productivity and a backlit keyboard, the Acer Aspire 7 lets you aspire to great things in your field and gives you the features to fulfill your aspirations. The Acer Aspire 7 laptop encourages productivity with its unique features. Here's what I mean. 
To begin, it features the famous GeForce GTX 1650 GPU. In English, that means this laptop has an upgraded performance boost that makes it as fast as some fast gaming laptops in the world. 
You know that in the computer science field, part of the game is all about speed. The faster your laptop, the faster you can finish your tasks, bringing you a step closer to actualizing your goals. 
This laptop is also built with a 9th gen intel core i5-9300H processor. It improves the speed of your laptop speed up to 4.1GHz via the turbo boost technology, making it an impressive laptop. 
If you're wondering what the display is, it uses a 15.6" full HD LED IPS display. The screen displays high-quality texts and images well enough to prevent you from squinting your eyes. Hence, while working, you'll get the details of the texts and images. 
With 8GB ram, you can run quite a few programs on it without the laptop ceasing. Then, the internal memory features a 512GB PCle NVMe SSD. 
---
Alienware is another giant in the tech industry. Their gaming laptops are the real deal when it comes to programming. So, if you have only looked at Alienware laptops through the lens of good gaming, it's time to switch that perspective up a little bit. Let's do the perspective switch with the Alienware M15 R3 gaming laptop. Aside from gaming, let's look at how this laptop can be beneficial for computer science students. 
To begin, it uses the Windows 10 operating system that makes it both great for gaming and computer engineering. If you didn't know, you should know that the Alienware product range was created by Dell to design high-range laptops that could carry out amazing functions. By design, the system is lean. With a 4.6lbs weight, you can already picture how almost weightless it is. But the lightweight feature doesn't make it less sturdy. In fact, carved with premium magnesium alloy material, the laptop is both lightweight and sturdy. So, yeah, you get to have both.
Also, Dell devised an appearance maintenance technique that prevents the surface from retaining scratches easily. Thanks to the surface quoting, stains and scratches won't change the surface colour. Of course, it is stain-resistant! 
When it comes to the processor, it uses the 10th gen intel core i7-10750H with 6core processors. For more details, it uses the 10th gen intel comet late H-series processors, which is one of the latest models. 
This laptop uses an RTX 2070 full-powered graphics chip that gives this laptop a major performance boost. It also brings the ray-tracing and DLSS features to the table. In general, this graphics card performs excellently well for all of your tasks as a computer science students.
---
Designed with a 10th Gen Core i7-10750H 6-core processor that functions up to 5.0GHz, this laptop is really a predator but in a good sense. It takes up any programming tasks and delivers with speed and effectiveness.
Thanks to the NVIDIA GeForce RTX model, it incorporates ray-tracing that can be done in real-time and enhanced AI graphics efficiently into its function. The result is a super fast and impressive performance altogether.
It has a 15.6" full HD display that renders images and texts that are crisp, clear, and well detailed. While writing your programming language, you'll see every stroke you make with eagle eyes, thanks to the display. Coupled with the display is 1920 x 1080 resolution and IPS display equipped with 144Hz refresh rate.
If you've tried working on Java, JavaScript and other relevant software on certain laptops that overheat and that bother you, this Acer Predator Helios saves you from that plague. 
The manufacturers designed it with a 4th generation AeroBlade 3D fan that works silently to keep the laptop cool. Now, you can utilize the laptop at its highest peak without worrying about overheating.
---
FAQs: Best Laptop for Computer Science Students
How do I choose a laptop for computer science?
If you're interested in computer science, you'll need a laptop with a great CPU performance. If possible, get a laptop with an Intel Core i7 or an Intel Core i5 processor. An AMD Ryzen processor is also an excellent choice.
How Much Should I Spend on a Laptop for Computer Science?
The best laptop value is in the $800 to $1,000 range. This sum of money can't buy you everything, but it can help you get a decent laptop in several categories. You just need to spend more if you want a gaming laptop. We recommend setting aside at least $1,500 if you're looking for a gaming laptop.
How Much Ram Do I Need for Computer Science?
In general, 8 GB of RAM is the bare minimum suggested. Using more than one program at once, such as software development tools, word processing programs, and an internet browser, can be handled by 8 GGB of RAM.
Is Core i5 Good for Programming?
A laptop with an i5 CPU is ideal. Selecting the appropriate laptop for programming should come first in terms of priorities. If you have a big budget, you can opt for an i7 processor; if you don't, an i3 processor will suffice.
Do You Need a Laptop for Computer Science?
You don't always need a laptop if you have a PC. However, you may want one depending on your career goals. If you work for a firm, it will provide you with a computer and, likely, a laptop; but if you do freelance or consulting work, you'll need one.
---
There you have it! Best Laptop for Computer Science Students
We've shown you some of the best laptops for computer science students on the market. We also gave you a buying guide that'll help you make your decision if you're ever stuck in between deciding which laptop you should buy. 
As a computer science student, you can't afford to buy a random laptop with no spec that'll fulfil your programming duties. Going forward, our laptop list is a great place to start when shopping for a laptop for programming.
READ ALSO:
---
AUTHOR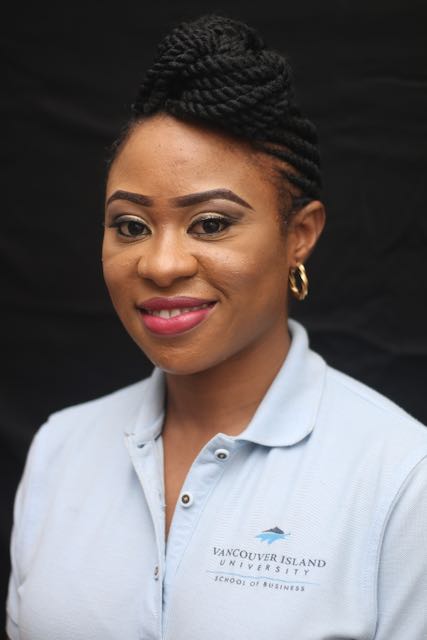 Charee Oisamoje is the founder of CanadaWiz. She leads the editorial team, which is comprised of subject matter experts that aim to create well-researched, highly detailed content related to studying, working, immigrating, and settling/living in Canada as a newcomer.
Charee's personal experiences as a Canadian immigrant and her professional competencies make her uniquely qualified on the subject matter.
With extensive educational credentials, she is an expert at collecting details, verifying facts, and making complex subjects easy to understand.
MBA in Finance
MScIB
CCEA (#CCG 271)
CPA Candidate ✔️CIP ✔️BSc Accounting
Learn More >> About Page
---
✔️ Get up to $3,000 CAD* Fee-Free transfer (or the equivalent of £2,000 in other currencies).
✔️ Earn $75 CAD** for every 3 friends you refer; they'll get a fee-free transfer of up to $800 CAD.
✔️ Multi-Currency Debit Card: Spend abroad without hidden fees.
✔️ Best and real exchange rates and lower fees than old-school banks and other money transfer services.

*Your secret code will be automatically applied.
**USD accounts earn $115 USD for every 3 friends you refer; they'll get a fee-free transfer of up to $600 USD).
---
✔️ Get a $30 welcome bonus for transferring $100* or more.
✔️ Get a 20 GBP welcome bonus for transferring 75 GBP* or more.
✔️ Fast: 95% of transfers are received by the recipient in minutes.
✔️ Better exchange rates and lower fees than most traditional banks and money transfer services.
*This can be achieved over multiple transfers.