What is the Cost of Express Entry in Canada? Read on, if you want an answer to this question or an answer to any of the below similar questions:
How much would Express Entry cost?
What is the total fee structure for Canada Express Entry System?
How much money do I need to apply for permanent resident – Express Entry?
What is the total cost for Canada Express Entry fees?
---
Express Entry Permanent Residence Fees
Express Entry is currently the most popular economic immigration pathway. However, one of the major barriers to Canadian permanent residence (PR) through Express Entry is the amount of money. The cost of express entry will depend on your profile. For ease, we have broken the cost into three majors sections:
The cost incurred before you can enter the Express Entry pool.
The cost to enter the Express Entry pool. That is, to submit an Express Entry profile.
The cost incurred after you receive an Invitation to Apply (ITA).
---
1. Cost/Fees you'll incur before you enter the Express Entry pool
Before you can submit an Express Entry profile, you'll need information from some or all of the below documents. Therefore, you'll incur costs/fees to get these documents:
Passport or Travel Document, if you do not already have one. The cost to obtain a passport or travel document varies depending on the country you are from. It is estimated at $50 – $250 CAD.
Language Test Results: To be eligible to complete/submit an Express Entry profile, an applicant must demonstrate their English and/or French language skills by taking an approved language test. The English language test option is IELTS General Training (~$300 CAD) or CELPIP. The French language test option is TEF Canada or TCF Canada (~$350 CAD).
TIP: You should do your best to prepare/study for the language test as there is a minimum result required by Express Entry. You'll have to include your results when you complete your Express Entry profile.
Education Credential Assessment (ECA) Report: An ECA is required to confirm that your foreign credential (e.g., degree, diploma, or certificate) is valid and equivalent to a Canadian one. You'll need an educational credential assessment if you want to submit a PR application through the Federal Skilled Workers program, or if you want to get points for the education you acquired outside Canada. The ECA fee varies depending on the designated organization/professional body you use and the document delivery option you chose – regular mail delivery (lower cost) vs. courier (higher cost). The fee for educational credential assessment will be between $120 CAD (ICAS) and $600 CAD (MCC). You will be required to input the reference number of your educational credential assessment report  in your Express Entry profile.
Most designated organizations have various types of ECAs. So, ensure you request for an ECA for immigration purposes from the organization you chose. If you mistakenly got an ECA that is not meant for Canadian immigration, you may contact the designated organization to ask if they could issue you the appropriate one.
---
2. Cost/Fees to Submit an Express Entry Profile (FREE)
TIP: There is no cost associated with submitting an Express Entry profile.
To complete an Express Entry profile, you'll need:
Information from the documents noted above (that is, your passport or travel document, language test results, and ECA reports).
Your National Occupational Classification (NOC) job title and code.
The next step is for you to Create/Submit an Express Entry Profile Form Online, free-of-charge on IRCC's website.
Once you start completing the Express Entry online form, you may exit your profile at any time. Your information will be saved in your account, and you'll have 60 days to complete and submit your Express Entry profile. Otherwise, you'll have to start again.
Once you've completely filled out your profile, you can submit it online.
---
Need Help Creating & Submitting your Express Entry Profile? Contact Us!
What you'll get from us:
A detailed list of documents that are required to create your Express Entry Profile.
Create your Express Entry Profile for you and submit it to IRCC.
Assist you in determining your National Occupation Classification (NOC) job title and code.
Ensure that you submit an accurate Express Entry profile, so that you can avoid mistakes that could cause delays or refusals.
Assist you in uploading your profile on the Canada Job Bank, and provide you with tools and resources to help you find work in Canada.
Evaluate your profile and advise you on how to improve your ranking.
Monitor other Canada immigration programs, such as Provincial Nominee Program (PNP), and advise you quickly about new programs as they are announced.
The Express Entry system may change or become more competitive in the future as more candidates upload profiles. Hence, quick submission may maximize a candidates' chance of receiving an ITA before any change occurs.
---
What Happens Next After you Submit your Express Entry Profile?
After you submit your profile to the Express Entry pool, IRCC will figure out which immigration program you're eligible for under Express Entry. If you're eligible, IRCC (Immigration, Refugee and Citizenship Canada) will:
Put you in a pool with other qualified candidates.
Generate a Comprehensive Ranking Score (CRS) for you by making use of various aspects.
Send you an Invitation to Apply (ITA) for Canadian permanent residence, if you're among the highest-ranking candidates.
TIP: You can only apply online if IRCC sends you an invitation to apply (ITA).
Please note that completing an online Express Entry profile or entering the pool does not guarantee that IRCC will invite you to apply for permanent residence (PR).
Related Post -> Canada Express Entry Eligibility Requirements
Related Content -> Total Cost of Express Entry Canada Visa in Nigerian Naira (₦)
---
3. The Cost incurred after you receive an Invitation to Apply (ITA)
After you receive an Invitation to Apply (ITA) for Canada permanent residence, the following are the amount of money that will be associated with the process:
Fees for Express Entry payable to IRCC through your online account:

PR Application Processing Fee ($550 CAD) and Right of Permanent Residence Fee – RPRF ($490 CAD) = $1,040 CAD for each adult.
If you have children, $150 CAD per child as the PR application processing fee. Dependent children do not pay the RPRF fee.

Medical Examination  $200 CAD.
Other additional expenses: We want to ensure you budget accordingly, so it's important to note that you'll incur other additional expenses. Examples of these expenses include courier delivery fees, cost to get affidavits done (if applicable), amongst others. Let's assume an average of 160 CAD for all these, per person.
If you received a nomination from a Canadian province of if you decide to go through the Provincial Nominee Program (PNP), there may be additional fees, depending on the province. Approximately between $250 CAD (New Brunswick) and 1,500 CAD (Ontario).
TIP: You'll also be required to provide proof of Settlement funds if you receive an ITA. This amount varies between $12,669 CAD (for a single person) to $33,528 CAD for a family of seven (i.e., couple plus five children). The minimum amounts are updated in January each year, based on 50% of the low-income cut-off totals.
---
Supplemental Information
Representative Fees
You may choose to hire a representative (such as an immigration consultant or an immigration lawyer) to help you prepare and submit your Express Entry file. The fees for a Canadian immigration consultant or a Canadian immigration lawyer varies between $3,000 CAD to $10,000 CAD depending on the practitioner you chose.
We feel your pain and agree with you that the processing fees charged by those practitioners are somewhat pricey, so this is where we (i.e., CanadaWiz) comes in.
We can help with submitting your Express Entry profile and packaging your Canadian PR application for only a fraction of those costs.
---
Let us help make your Canadian dream a reality! Contact us and let's get started.
---
Got questions? Suggestions? Feedback? Let us know in the Comment!
AUTHOR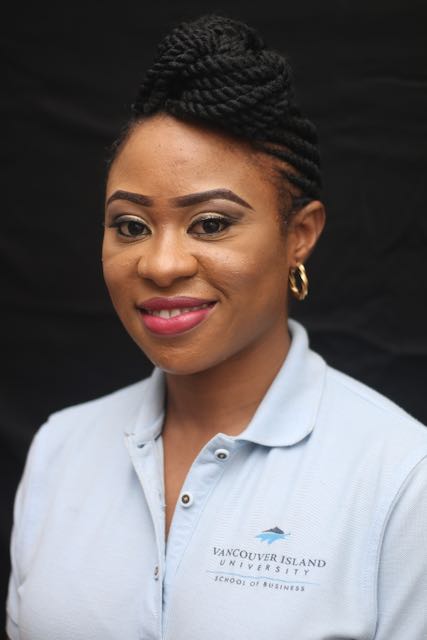 Charee Oisamoje is the founder of CanadaWiz. She leads the editorial team, which is comprised of subject matter experts that aim to create well-researched, highly detailed content related to studying, working, immigrating, and settling/living in Canada as a newcomer.
Charee's personal experiences as a Canadian immigrant and her professional competencies make her uniquely qualified on the subject matter.
With extensive educational credentials, she is an expert at collecting details, verifying facts, and making complex subjects easy to understand.
MBA in Finance
MScIB
CCEA (#CCG 271)
CPA Candidate ✔️CIP ✔️BSc Accounting
Learn More >> About Page
---
✔️ Get up to $3,000 CAD* Fee-Free transfer (or the equivalent of £2,000 in other currencies).
✔️ Earn $75 CAD** for every 3 friends you refer; they'll get a fee-free transfer of up to $800 CAD.
✔️ Multi-Currency Debit Card: Spend abroad without hidden fees.
✔️ Best and real exchange rates and lower fees than old-school banks and other money transfer services.

*Your secret code will be automatically applied.
**USD accounts earn $115 USD for every 3 friends you refer; they'll get a fee-free transfer of up to $600 USD).
---
✔️ Get a $30 welcome bonus for transferring $100* or more.
✔️ Get a 20 GBP welcome bonus for transferring 75 GBP* or more.
✔️ Fast: 95% of transfers are received by the recipient in minutes.
✔️ Better exchange rates and lower fees than most traditional banks and money transfer services.
*This can be achieved over multiple transfers.