Learning a new language can be fun.
It doesn't always have to happen within the four walls of a classroom with your teacher who wears big, round goggles, a T-shirt and light blue jeans 🙂
Sometimes all you need to learn a language like French are great French learning books that make it easy for you to learn the language in no time.
Curious about what some of the best books to learn French is? I'll show you. Regardless of your level in the language, we have something for every learning level; beginner, intermediate or advanced. 
There's something for everyone on our list. Make your pick based on your French skills. Without further ado, let's dive in already.
---
Best Books to Learn French – Overview (Beginners, Intermediate and Advanced)
---
One of the best things about these french learning books is how it teaches the language using a straightforward approach. Regardless of how good or bad your reading skills are, you'll have no difficulty trying to understand this textbook. 
It's a very comprehensive and immersive guide to learning French. This comprehensiveness is because it combines six books in one. The entire six books in this set address different parts of French that help beginners and those with intermediate French skills grow into self-taught Language experts. 
The title of the six books in one includes French Essentials for Dummies, French Verbs for Dummies, French for Dummies Audio Set, Intermediate French for Dummies, French Phrases for Dummies, and French for Dummies.
These French learning books will improve your French writing skills and reading, listening, and speaking French skills. Thanks to the audio CD that comes with the book, you can truly learn the language extensively all by yourself. 
---
If you're a beginner in learning French, you're in for progress in your language learning journey. It's a great language learning tool for beginners who have never learnt French before and beginners who attempted to learn French but abruptly stopped for some reason. 
If you fall in the second category of beginners, this book is excellent to help you pick up from where you left off while learning French. It's also great for those whose French-speaking skills have gotten quite rusty and need to brush up. 
This textbook adopted the intuitive assimilation approach to learning French. It is a comprehensive resource that breaks down the learning process so you can naturally ease into gradually speaking the language like a pro. 
The content follows the course format that packs about 100 lessons to help strengthen your French-speaking skills. There are also lively practical dialogues and practice exercises to help you improve your conversational skills. With this textbook, you can go as far as you want to improve your skills. 
---
You can think of this as a French visual course because it's very similar to it. It opens you up to the world of French grammar through its easy-to-read course format. You can now learn French quickly regardless of your busy schedule. According to the brain behind this book, you only need 15 minutes daily to learn the language. 
Visual learners are in for a treat with this book as they would especially find it easy to use. The publisher designed it to be visually appealing. So, you'd never feel like using the book is excruciating. You'd come across French grammar and vocabulary with a massive inclusion of high-quality full-colour photographs that'll make learning an exciting endeavour.
Thanks to the review modules, you monitor your growth so you can quickly gauge your French-speaking skills. Furthermore, you'd get a gift when you buy this package. The gift comes in the form of a French phrasebook that is also visually appealing. 
---
Learning French from scratch was never easy until these french learning books came along. Like the title, it presents a step-by-step traditional grammar approach. Here's what I mean. 
You start by learning French grammar from the most basic concept and rules. Then, you progressively move forward and into deeper levels of grammatical learning. Also, the french learning books would teach you up to 300 French verbs based on how often French people use them. 
With more than enough practice exercise in the book, you can evaluate your knowledge of French. In essence, you'll quickly know your weakness and make a conscious effort to fix it. 
You'll also have the luxury of reading engaging passages in the book that contributes to boosting your French-speaking skills. It'll also help you to master the art of speaking French well. 
One of the primary reasons we recommend this book is because it is easy to use. It's not named 'Easy French' for no reason as it is effortless to use.
---
These french learning books are common amongst intermediate learners of French as it is one of the resources used in French intermediate courses. It comes in a set of 3 books. The books include a literary reader (Collage: Lectures littéraires), a grammar review (Collage: Révision de Grammaire), and a cultural reader (Collage: Variétés culturelles).
Using this book to learn French as an intermediate learner is very flexible. It is also very detailed that it makes you feel as though you were in a classroom, learner French from a French instructor and tutor. 
The beautiful thing about this book is that it doesn't only teach you French. It also exposes you to the French cultures and traditions in francophone countries. This strategy is effective because it ensures that you limit yourself to learning the language and learn the way of life of the language owners.  
---
As an intermediate learner of French, if you're looking for a book that won't only help strengthen your French grammar and vocabulary but also your listening, speaking, reading and writing skills, then this French book is for you. 
The premise of this book is that the way to learn French successfully is to strengthen your knowledge of the essentials in the language. So, it's not surprising that it addresses French grammar but another aspect of the French language. 
The best part of this book is that the author wrote a lot of details in French. For instance, the explanations in the grammar section and the exercise directions are all written in French. Of course, this is the deliberate effort of the authors to help intermediate French learners readily acquire the language.
It comes with CDs that are helpful with the listening and speaking part of French. You'll quickly learn the correct pronunciation of some French words. 
---
As a French speaker, you realize a striking difference between the French you encounter in your textbook and the everyday, conversational French. Hence, it's a bad idea to get into the French social scene with only the knowledge you gained from the French textbook. 
On this note, you need a lifesaver French book that exposes you to the structure of conversational French. 
Specifically, this book is perfect for intermediate French learners to perfect their conversational French. Here's what you'll get in the book. You'll have access to 101 simple French conversations used on the streets of France and Parisian France. 15,000+ dialogue, situational dialogues, a summary of the conversations to help you grasp what it's about, etc.
This book comes highly recommended for intermediate learners of French as it takes them into the real world of French-speaking without them needing to leave their rooms.
---
As an advanced speaker of French, having a reference is not a bad idea at all. This book is one of the excellent french learning books that has reference for advanced French grammar. Although it was designed for all learners of French from beginner level to advanced level, advanced learners of the language might enjoy using it more. 
You're in for a serious treat with this guide, as it treats both traditional French grammar and function-based grammar. Hence, you'll encounter many grammar-categorized words such as French verbs, nouns, etc., in the conventional grammar section. The function-based area dwells more on the different ways native French speakers use these grammar categories. 
Although it examines traditional French grammar, this French textbook focuses more on the contemporary usage of French. Also, the author took time to pump this book with sufficient examples to aid comprehension. 
The authors also made an effort to ensure the explanation is as clear and detailed as possible. All together, these features qualify this book as a good book for ardent learners of French.
---
This book is another French learning books that contains grammar reference text specifically for advanced learners. It's an excellent resource for French learners as it further exposes them to the structure of French. 
It's one way to stay updated as a French speaker on the syntactic structure of French. On this note, every advanced learner should have this book sitting on their shelves with other equally important French reads. 
In trying to enlighten advanced learners of French, this book takes the route of both traditional and modern approaches. Another thing about this book is that the author writes it in the most practical way possible. 
As a teacher that has taught French to English speakers, the author easily draws examples from his actual experiences as regards French. The numerous examples highlighted by the author help French learners clear up their confusion when they encounter similar syntactic alternatives in French. 
He also addresses the "correct expression" norm, sighting examples of how native French speakers use them and deviations from the common usage of these expressions. Truth be told, this book would only make a lot of sense to advanced learners of French. Beginners might find it a little difficult to understand.
---
You know you're an advanced French learner when you can readily pick up a collection of French short stories from a set of french learning books to read. However, this doesn't mean that all the stories in the book are written only in French. While there are stories in French, there are also stories in English. This language mix is to aid comprehension. 
Sometimes, taking a different approach to learning French helps improve your French grammar and vocabulary. For instance, this collection of short stories in French contains idiomatic French expressions and colloquial expressions used in everyday conversations in French. While you follow the journey that the different short stories take you through, you'll strengthen your French-speaking skills. 
Hence, it's safe to classify this book and others like it as one of the significant French-language skill builders. After going through the stories makes you less scared of placing yourself in a French-speaking, social context. 
---
FAQs on French Learning Books for Beginners
Can I Learn French by Reading Books?
Yes, you can. It's simple and enjoyable to learn French by reading French novels. You not only improve your reading comprehension, but you also acquire a lot more words without the aid of Google Translate.
Can I Learn French in 3 Months?
You may not learn french in three months. French is beautiful, popular, and very useful. If you want to learn French in three months, you won't master it in three months, especially if you can only put a few hours each week into it.
Why Is French So Hard?
French is so hard since the intricate grammar and other linguistic intricacies don't exist in English, especially if they have never studied another European language (or, more accurately, a Roman language) such as Spanish or Portuguese.
How Much Time Do I Need to Learn French?
Approximately 23-24 weeks or 575-600 hours. French is classified as level 1. In other words, it's regarded as one of the simplest languages to learn because it's "very close" to English. According to the FSI, it will take an English speaker roughly 23-24 weeks or 575-600 hours of study to become fluent in French.
Is French Difficult to Learn?
No, it is not. French is a simple language to learn, although it does take some time and effort. French is in the easiest category of languages to master for English speakers, according to the Foreign Language Institute (FLI).
---
Wrap up on the Best French Learning Books
While we've taken you through some of the best French learning books, you do not necessarily have to invest your money into buying all of the books on the list. The truth is, you probably would slow down your learning process if you do that. 
So, the first thing you should do before you hit the bookstore or Amazon to shop for these books is to figure out your French proficiency level. Are you a pure beginner or a beginner with a below-average French vocabulary? Or are you an intermediate or advanced learner? Once you can successfully place your French proficiency level appropriately, you can now decide where to start. 
Another thing is, that you can't 100% rely on textbooks to become one of those French language experts. It would help if you found a way to get out there and put yourself in an environment where people speak French. 
You could join an active French community in your city if you do not live in France or a francophone country. That way, you'll be encouraged to keep learning and speaking French till it becomes a part of you as your native language.
---
AUTHOR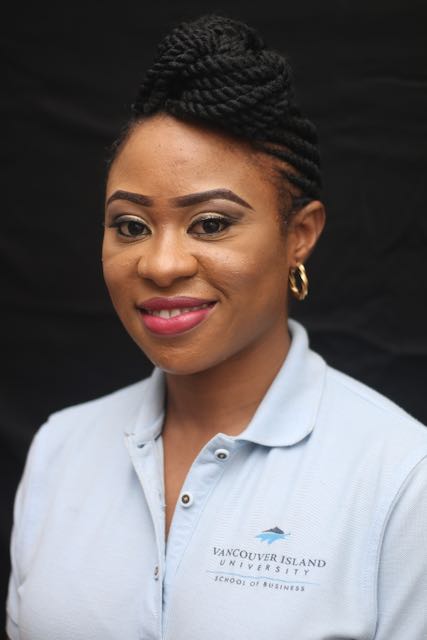 Charee Oisamoje is the founder of CanadaWiz. She leads the editorial team, which is comprised of subject matter experts that aim to create well-researched, highly detailed content related to studying, working, immigrating, and settling/living in Canada as a newcomer.
Charee's personal experiences as a Canadian immigrant and her professional competencies make her uniquely qualified on the subject matter.
With extensive educational credentials, she is an expert at collecting details, verifying facts, and making complex subjects easy to understand.
MBA in Finance
MScIB
CCEA (#CCG 271)
CPA Candidate ✔️CIP ✔️BSc Accounting
Learn More >> About Page
---
✔️ Get up to $3,000 CAD* Fee-Free transfer (or the equivalent of £2,000 in other currencies).
✔️ Earn $75 CAD** for every 3 friends you refer; they'll get a fee-free transfer of up to $800 CAD.
✔️ Multi-Currency Debit Card: Spend abroad without hidden fees.
✔️ Best and real exchange rates and lower fees than old-school banks and other money transfer services.

*Your secret code will be automatically applied.
**USD accounts earn $115 USD for every 3 friends you refer; they'll get a fee-free transfer of up to $600 USD).
---
✔️ Get a $30 welcome bonus for transferring $100* or more.
✔️ Get a 20 GBP welcome bonus for transferring 75 GBP* or more.
✔️ Fast: 95% of transfers are received by the recipient in minutes.
✔️ Better exchange rates and lower fees than most traditional banks and money transfer services.
*This can be achieved over multiple transfers.