Here's a fun fact about Ontario that you should know. It is large! As a matter of fact, it's a lot larger than some of your favourite European countries, like France.
That alone should trigger some curiosity regarding what structures and places occupy Ontario.
Trust me; there's a lot, and these places are beautiful too. However, you won't enjoy exploring the massive province of Ontario, Canada; without some exquisite list pointing you in the right direction.
That's why we came up with this list of the best places to visit in Ontario. I promise you; you'll be mind-blown.
Without further ado, let's dig in. 
---
Top 40 Best Places to Visit in Ontario
My Impression
One of the places you should look forward to visiting in Ontario is Wasaga Beach. Fun fact; it was one of the world's debut tourist destinations. Of course, the major attraction is that it houses the world's longest freshwater beach. 
The water is really clean and warm enough to take a good swim. Coupled with swimming, you'll enjoy playing in the sand and soaking up the summer sun. When you feel bored, you can stroll from the main beach to the other beach areas. At the main beach, you can buy anything from food to souvenirs, and fancy beach wears, etc. 
| | |
| --- | --- |
| When to Visit | Spring and the beginning of Fall |
| What to do | Canoeing, paddleboarding (SUP), windsurfing, land boarding, boat cruising, etc.     |
---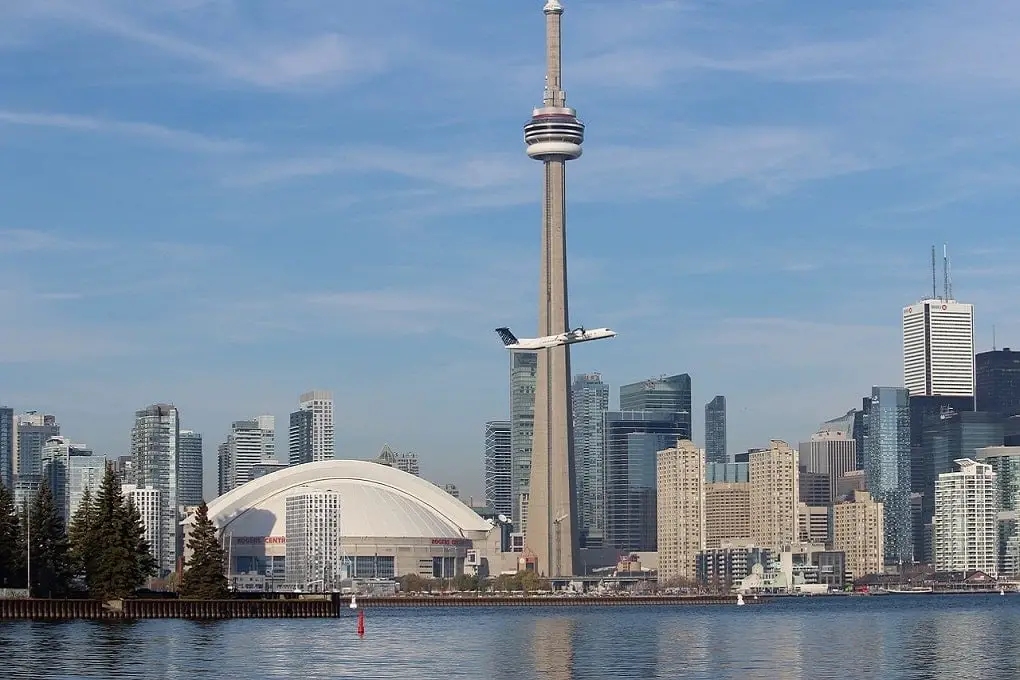 My Impression
What's a better way to enjoy Ontario than to visit the tower that held the title of the world's tallest freestanding structure for 30 straight years? But, of course, exploring this building isn't for the faint-hearted. While it can be traumatizing for people with a fear of heights, it serves you electrifying views of the earth that makes you scream out in joy. 
The building is 1,815 tall and is wrapped with glass walls. So, you would see the world in a better option than 3D. Of course, feel free to take pictures and look down a lot- if you're not afraid of heights. 
| | |
| --- | --- |
| When to Visit | Any season except on snowy days and when the atmosphere is foggy.  |
| What to do | Ride the high-speed elevator to the top, take pictures, sightseeing, have a family dinner at the tower, etc.  |
---
My Impression
Where are my fishermen? If you love to engage in fishing sports, Lake Erie calls for you. It's one of the best locations in the world for fishing sports. Precisely, it's perfect for walleye fishery- anglers would know this. But that's not to say other people won't enjoy visiting Lake Erie. 
You can visit one of the beaches in Lake Erie to enjoy surf swimming. You can also enjoy the scenic drive along the beach. That's an adventure in itself- especially if you're great with a map. 
| | |
| --- | --- |
| When to Visit | Spring, Fall.  |
| What to do | Tour the lighthouse, trail riding, camp on the shore, watch the Peace Bridge glow at night, etc. |
---
My Impression
The mountain isn't blue. It's like every other mountain. However, they look blue. And it's thanks to the eucalyptus trees that live in the mountain. 
These trees cover the mountain with a blue haze; that's why they are blue. The blue mountain is perfect for skiing and rock climbing. But that's the tip of the iceberg of why you should visit this location. Scattered around the mountain are villages and towns that harbour fantastic experiences that can help you make up a wonderful holiday. 
| | |
| --- | --- |
| When to Visit | Any time of the year but the Summer months are the best time to visit. |
| What to do | Spa day, hiking, downhill skiing, retail therapy, savour the meals in the restaurants, try the Ridge Runner Mountain Coaster, etc.  |
---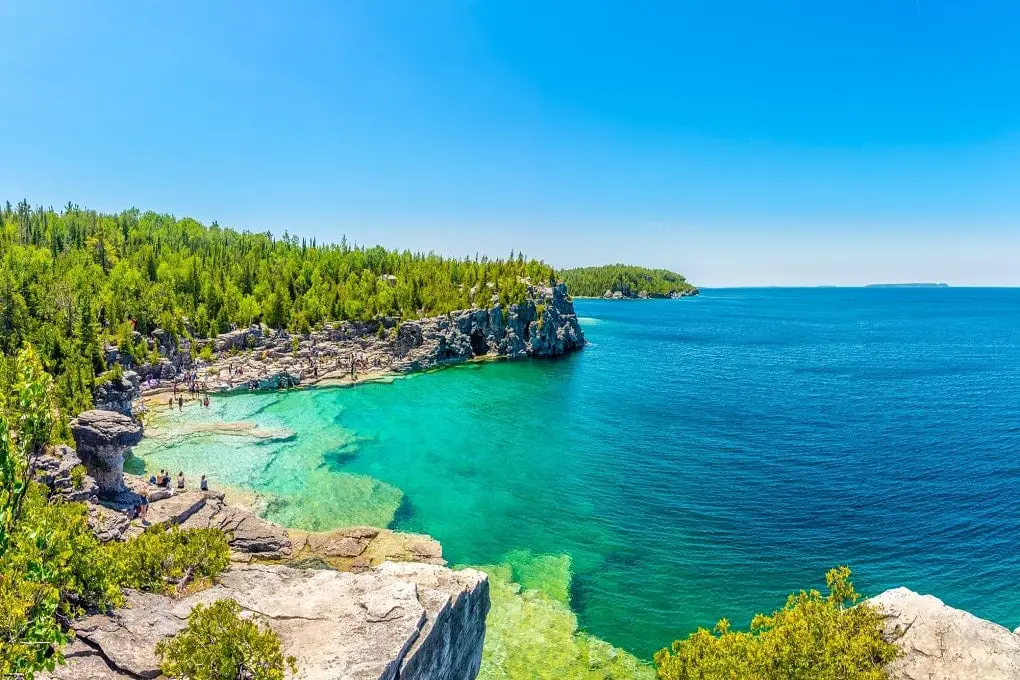 My Impression
Your tour of Ontario, Canada, isn't complete without touring a park. We've got the best place for you to start with, and it's the Bruce peninsula national park. It has one of the best virgin forests I have ever seen. Everything is so natural, and it holds immense beauty than you've ever seen. 
The cliff is terrible for cliff diving. But you can go hiking on the incredibly awesome hiking trails. Then, there's the enticing turquoise water, sometimes washing up into parts of the singing sand. 
| | |
| --- | --- |
| When to Visit | All year round; Limited facilities in Winter.  |
| What to do | Hiking, canoeing/Kayaking, swimming with caution, bouldering, rock climbing, boating, fishing, festivals, etc. |
---
My Impression
Lake Huron is one of the best vacation spots in Ontario. There are many attractions on the beach that keeps tourists trooping in all year round. While swimming in the turquoise, clear water is one of the reasons people visit the lake, and the long beaches are another reason to visit this lake. 
The river systems are extensive, and the sand dunes are unique. Intriguingly, Lake Huron hides about 100 historic shipwrecks beneath its surface. But of course, its surface isn't suggestive of it. 
| | |
| --- | --- |
| When to Visit | Summer into early Fall (September) |
| What to do | Kayaking, hiking, swimming, biking, rock climbing, golfing around lake Huron etc.  |
---
My Impression
While there is no water to surf around or mountains to climb in the Library of Parliament, it's still an advantageous location to visit. Think of your visit to the Library of Parliament as a tour of one of the most Iconic places on earth. 
The library doesn't only house history but is carved most impressively. The walls are covered in handcrafted details that only a tour guide can help you understand its essence. Walking into the library is almost like walking into a heavenly place. 
There is a white statue standing at what feels like the centre of the library. The walls are all brownish- with the lights, they have a golden glow. It has flying buttresses that are massive.
| | |
| --- | --- |
| When to Visit | Open for the tour, except on days with parliamentary activities |
| What to do | Tour the Library.  |
---
8. Flowerpot Island
My Impression
Flowerpot Island is the most natural stack of rocks and flowers put together. The first thrill for me was that you could only get to the island by boat. The wonder starts on the way to the island. 
You'll come across two historic shipwrecks before reaching the island. The rock pillars, now called "flowerpots," weren't always like that. But the rocks naturally formed the structure we see today thanks to years of waves, winds, and other elements hitting the coastline. 
So, I guess we can call this nature's work of art. Once you get there, you can cruise in the water. But that's not all. Don't worry, watching the rocks isn't the only thing to do on this island. 
For starters, you can go camping with your family on the island. The hiking trails are also remarkable. The island is also a haven for swimmers and snorkelers, etc.  
| | |
| --- | --- |
| When to Visit | Middle of spring into the early days of fall.  |
| What to do | Snorkelling, swimming, hiking, boat cruising, exploring the caves, etc. |
---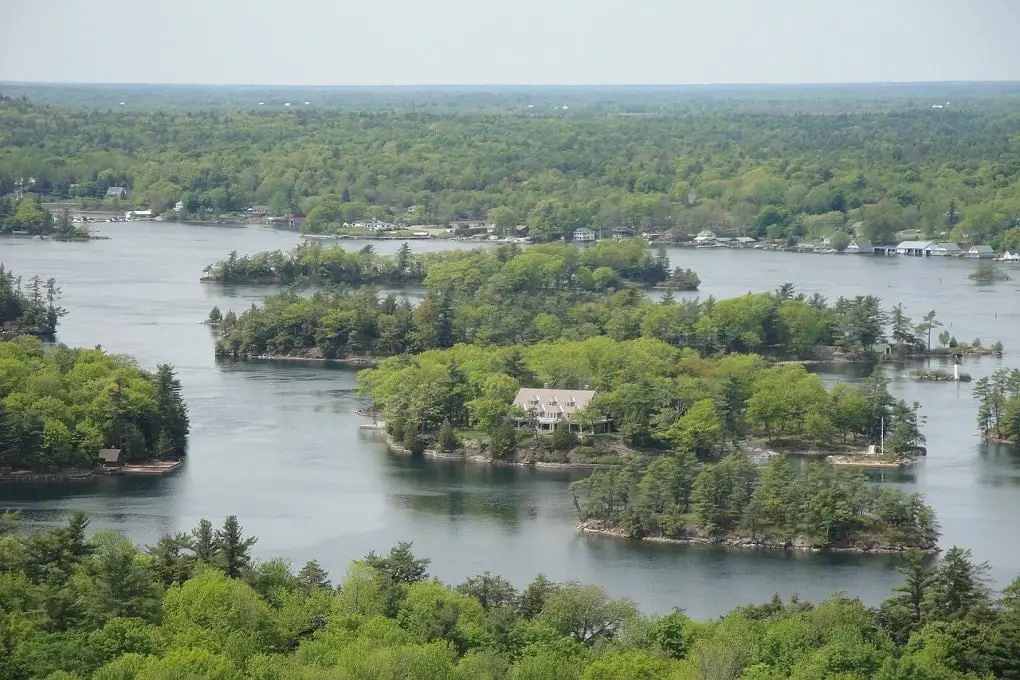 My Impression
Thousand islands hold thousands of reasons why you should visit them. Aside from the fact that it's a beautiful island surrounded by abundant greenery, the activities you'll do here make it the best vacation spot for you and your family. 
Here's a free tip; experiencing the island is one of the best ways to bond and feel closer to your family. The best part of 1000 island is the accommodation for visitors. Tourists can choose from a variety of places to live. For privacy, you can rent from the array of private island homes. 
Guess what; you can access all these vacation perks on the island at a low price. The 1000 island borders Canada and the United States– specifically New York.
| | |
| --- | --- |
| When to Visit | Fall for peace and reduced crowd; Summer. |
| What to do | Wine tasting, camping, swimming, fishing, golfing, diving, kayaking, exploring wildlife and nature, golfing, wine tasting etc. |
---
10. Capital City
My Impression
The Capital City refers to Toronto – the capital of Ontario.
The city sits on Lake Ontario – precisely, its Northwestern shore. Do you know what this means? Capital City sits close to the border between Canada and the United States. Toronto is one of Canada's most populous cities and a major tourist attraction worldwide.
As a tourist, I can tell you for free that I'm not just attracted to the Capital City because of the CN tower. On the contrary, I'm drawn to it for its remarkable collection of galleries and museums like the Hockey Hall of Fame and the Toronto Dominion Gallery of Inuit Art. It's also a multicultural space, and I've always loved the diversity.
| | |
| --- | --- |
| When to Visit | Fall for peace and reduced crowd; Summer. |
| What to do | Wine tasting, camping, swimming, fishing, golfing, diving, kayaking, exploring wildlife and nature, golfing, wine tasting etc. |
---
My Impression
The Grotto is one of the places within Bruce Peninsula National Park that I and other tourist love to explore. It's all thanks to its fantastic hiking trails. 
But there's more! The Grotto has an amazing cave that's perfect for swimming. If you intend to spend part of your summer scuba diving and snorkelling, you've come to the right place. 
Undeniably, the Grotto is a fun place to be. With the clear waters and various spots to relax, you'll have a swell of time. But it can also be a dangerous place for kids. 
| | |
| --- | --- |
| When to Visit | Mid-Spring (Precisely towards the end of April) into Mid-Fall (October).  |
| What to do | Thrifting, view the skyline from lake Ontario, eat at little India, and explore museums and galleries.  |
---
My Impression
I don't know how they do it, but Stratford Festival blesses you with the experience of a lifetime. The intrigue in all these is how the organizers manage to do the festival differently every year. 
You can never get tired or outgrow the festival- there is always something new to enjoy and witness. If you're a music lover and deeply appreciate theatrical art and performance, now is the time to create a spot for this on your to-do list. 
The festival takes you on an epic journey of theatre plays from classical to contemporary. Of course, the emphasis is on none other than the literary genius- Shakespeare. 
| | |
| --- | --- |
| When it holds. | Runs from the Middle of Spring (April) to the Middle of Fall (October) |
| What to do | Spa, watch the theatre performance, visit the Shakespearian garden, check out the Stratford art, etc. |
---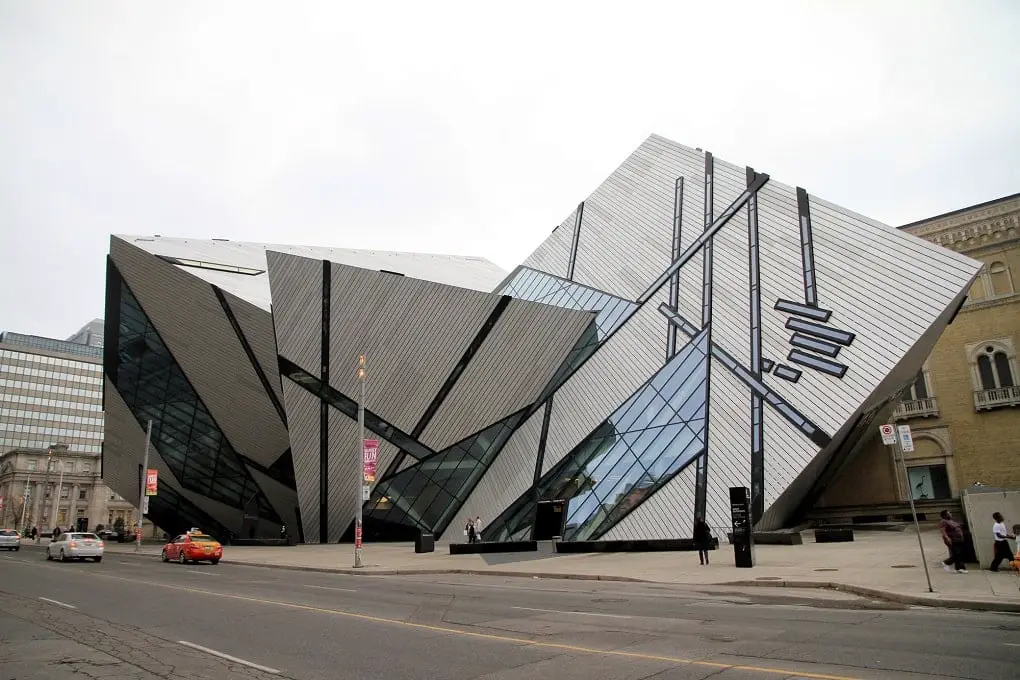 My Impression
With places like the Royal Ontario Museum, you don't need to wish that time travel was real to explore the wonders of past civilizations. The reason is that this museum effortlessly takes you down memory lane. Although you might not see dinosaurs, you'll see what their bones look like. 
With great imagination, you can imagine just how big or small they were. The museum also takes you to the Canadian societies that existed in times past. But that's not all. 
This museum showcases bits and pieces of the world. With over six million artifacts from around the world placed on exhibition, you're bound to experience parts of the various cultures around the globe. 
| | |
| --- | --- |
| When to Visit | Late Spring (May) to Early Fall (September); Summer is the busiest month. |
| What to do | Tour the museum. |
---
My Impression
I've heard people gush about the outstanding architecture of the National Gallery of Canada. It wasn't until I discovered that it had won awards for its architecture that I finally decided to visit the place. Much to my delight, it was worth my time. 
Aside from the main museum, the entire building houses a fascinating interior garden, courtyards, the dazzling great hall, and much more. When you're ready to enter the museum, you'll come across Louise Bourgeois' 30foot spider sculpture right at the entrance. 
Then comes the beauty of the building. The building is a perfect combination of glass and granite, and the design is the brain work of Moshe Safdie. At the museum, you'll come across artifacts, religious paintings, and unique sculptures- all teaching you about the soul of Canadian art. 
| | |
| --- | --- |
| When to Visit | Late Spring (May) to Early Fall (September); Summer is the busiest month. |
| What to do | Tour the museum. |
---
My Impression
Got a knack for fishing? Northern Ontario is the place you should explore. It's the perfect place for anglers to indulge in their fishing hobby- especially the Algoma Region. You can go on a fishing vacation that you won't regret. 
Not about that fishing life? No problem. There are dozen other reasons to explore Northern Ontario. For starters, it's very quiet. Given that it is not as populated as the south, it's the perfect escape from all the noise in the city. 
The landscapes in Northern Ontario would leave you gazing, jaw-dropped at the wonders of nature. It has some of the finest and most natural landscapes on earth. Thanks to the clear rivers, archaeology, forest, and greenery to purify the air. This part of Ontario is vibrant with Indigenous history.
| | |
| --- | --- |
| When to Visit | Mostly open All year round. |
| What to do | Experience art and beautiful sculptures, Take pictures, etc.  |
---
My Impression
Burlington is one of Ontario's best places to visit when you want to experience life in a small city. Although the city is small, it's got a huge lifestyle. 
Here's what I mean. There are many places you can visit with friends for fun. You can explore the city's waterfront. They also have restaurants that allow you to experience the city's food like a native. 
For instance, the Pepperwood bistro is one place you should visit. You'll be presented with some of the best wines, beers, cocktails, and savoury dishes to delight your taste buds. 
| | |
| --- | --- |
| When to Visit | Late Spring (May) to Early Fall (September) |
| What to do | Fishing, camping, atving, boating, motorcycle touring, fly and ice fishing, hunting, snowmobiling, Marvel at the beauty of thunder bay, skiing, etc.  |
---
My Impression
Statistically, Kingston attracts 5.5 million visitors yearly. While that's a lot of figures, it's enough to send anyone down the rabbit hole of curiosity regarding why it seems like such a big deal. As a tourist that's explored these regions more than once, here are some reasons Kingston is such a people magnet. 
For movie freaks like me, the two film festivals are one of the reasons Kingston is bubbling with visitors. The Kingston Canadian Film Festival is one of the festivals. Aside from that, genuine lovers of the art fly into Kingston to see the four Rembrandt paintings in the City. 
This City is also famous for housing the Royal Military College of Canada and Queen's University. Beer lovers would be delighted by the city's brewery. For a bit of rugged adventure, the Kingston Axe Throwing should suit your appetite.  
| | |
| --- | --- |
| When to Visit | Late Spring (May) to Early Fall (September) |
| What to do | Rock climbing, hiking, exploring food, art and culture.  |
---
My Impression
In its glory days, Casa Loma shape-shifted from being a luxury hotel to a sonar research secret facility during the era of World War 2. In recent times, it's a major attraction for tourists. I have to say that it's mind-blowing. The structure existed before the First World War. 
It was built by Sir Henry Pellatt, who was more concerned about building a luxurious and safe place to call home for himself and his family. Of course, he did a fantastic job. But it had gone through modifications since the family was forced to flee their home- no thanks to war and increased tax. 
Over the years, the beauty of this castle-like home has been well-preserved. There are 98 rooms in this castle. Every room in here is heavy with stories to tell. If that's not a call to a wonderful adventure, I don't know what else is. 
| | |
| --- | --- |
| When to Visit | Summer Months |
| What to do | Axe throwing, shopping, tour Queen's university, touring the brewery, explore wolfe island, boiler room climbing, etc. |
---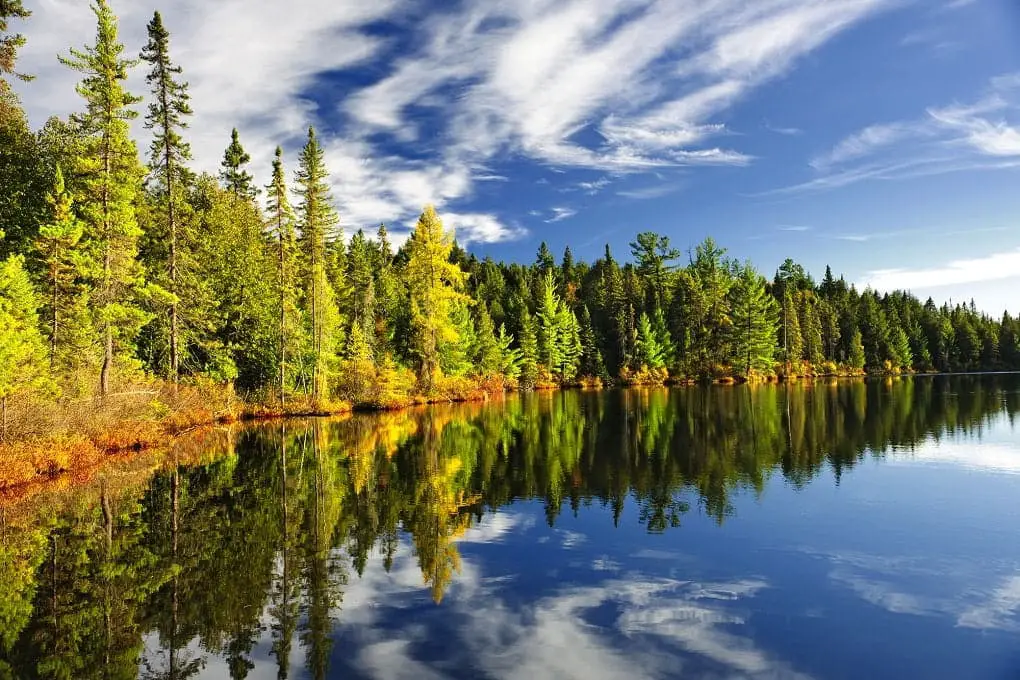 My Impression
The wilderness at the Algonquin provincial park is nothing short of pristine. Aside from that, the park has some of the best hills scattered all around the park. When fall hits, you'll appreciate these hills' presence. They change colours from orange to crimson and gold. 
It's also the best place for moose spotting, thanks to the moose living in solitary at the park. The park is also rich in a clear and clean river. Here's the fun part. Algonquin Provincial Park has a free ground of about 7,650 square to accommodate outdoor activities. 
| | |
| --- | --- |
| When to Visit | All-year-round |
| What to do | Tour the 98 rooms, take pictures, relive and discover the history, etc.  |
---
My Impression
Thunder Bay is an adventurer's paradise. Beyond serving as the gateway to about 150,000 lakes and the whole of Northwest Ontario, this city has a higher calling. Of course, it fulfils the higher calling well enough. Unsurprisingly, it is one of the most visited places in Northern Ontario. 
Let me help you understand why. To begin, Thunder Bay has one of the fascinating scenic views in Ontario. The synchronization of the rocky mountain and hills, the rivers, and the thick greens of the trees and forest is enough to inspire people. 
There are many things to try out as soon as you get into Thunder Bay. From exploring the City's fair in August, dining in their epic restaurant, to skiing, you can never get bored in this ever-vibrant city. 
| | |
| --- | --- |
| When to Visit | Summer |
| What to do | Sightseeing, savouring unique dishes, getting lost in nature, exploring the city's August fair, kayaking, fishing, hiking, swimming, exploring the art and history of the city, etc.  |
---
My Impression
Hamilton has more tricks under its sleeves than just being an industrial heritage. The city has an urban vibe to it, and it is vibrant and alive with artistic sceneries. Once you're in Hamilton, you're close to some of the most incredible waterfalls, art galleries, restaurants with delicious food, fantastic shopping experience, etc. 
The list is truly endless. One of the reasons Hamilton got under my radar was its culinary culture. It is unique and has experienced rapid growth. I have to admit that I envy the culinary culture here. But I'm most especially thrilled that I get to experience it. 
Having the Roma slab pizza in its hometown hits differently than eating it anywhere else in the world. You'll never be hungry in Hamilton in the diverse restaurant in the city serving a blend of Canadian, Asian and Cuisines from other parts of the world. Don't worry; there are so many other things to do in Hamilton besides just food. 
| | |
| --- | --- |
| When to Visit | Mid-Spring (from April) into early Summer (June) |
| What to do | Check out the waterfall, visit the Royal botanical gardens, go shopping, attend film festival in november, etc.  |
---
My Impression
This is the largest city in Northern Ontario. But there's more; it's one of those cities with diverse communities resident in them. For instance, you'll find the Ukrainian, Aboriginal, French, Italian, and a host of other communities in this part of Canada. The centre of the city is fully urban.
Here in Greater Sudbury, there are several lakes with smaller villages nesting around these lakes. But that's not where the magic of this city lies. It resides in the music, the outdoor activities, the art, and other features that serve as the major attraction for tourists and visitors from far and near. 
One such artistic attraction is the City's Big Nickel that, it's famously known for. They also have a park decorated with trees and lawns of different green shades. 
You can sit at the park and stare at the nearby lake as it dances to the tune of the waves and the breeze. They've also got museums, and the Lake Laurentian Conservation Area that's the haven to nature in its purest form. 
| | |
| --- | --- |
| When to Visit | Summer |
| What to do | Hiking, picnicking, snowmobiling, cross-country skiing, cycling, sailing, water-skiing, snowshoeing, ice fishing, kayaking, etc.  |
---
My Impression
The Diefenbunker is the place to go to for some history lessons. It is Canada's museum dedicated to telling the story of the cold war. The only thing is that this isn't like the regular museum you walk into. The Diefenbunker is history preserved. 
It's a 100,000-square-foot underground bunker created for the Top officials in Canada. In fear of a nuclear attack, the bunker was designed to protect these officials. It is a four-storey; that's enough space for the top officials. Touring the museum gives a unique learning experience. 
Several award-winning programs have been held here. You can also attend exhibitions and other events in the Diefenbunker to learn about Canada's defence mechanism during the cold war. You'll learn better with a guided tour. Nevertheless, you can self-guide yourself around this underground bunker, too. 
| | |
| --- | --- |
| When to Visit | All-year-round.  |
| What to do | Tour and relive history.  |
---
My Impression
Scenic caves are for everyone- from adults to kids. Regardless of your age group, you would have so much fun. It takes you through nature adventures in different activities. 
First, you get to explore the caves and caverns that used to be the home to the Petun First Nations people. But it was carved by nature- specifically glacial ice. You can also get an electrifying view of nature on the suspension bridge. At 420 feet, it's the longest in Southern Ontario.
| | |
| --- | --- |
| When to Visit | Open all year round; best visited in Fall. |
| What to do | Golfing, zip lining, riding the tractor wagon rides, picnicking, gemstone mining, etc.   |
---
25. Cheltenham Badlands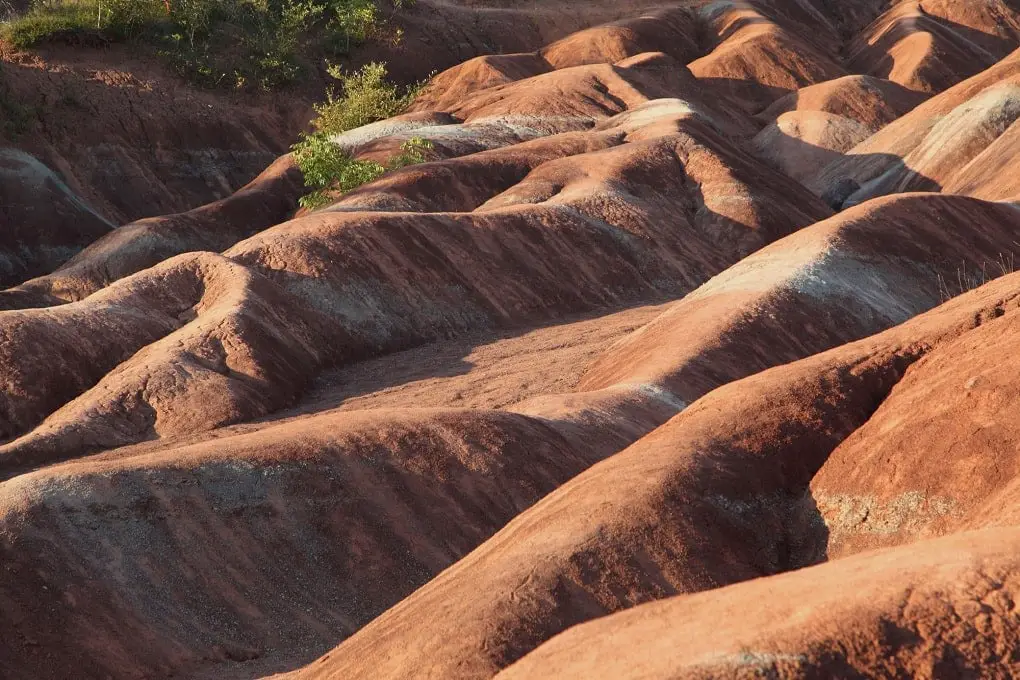 My Impression
Cheltenham Badlands has a wave-like topography and a rust-red colour. The current state of the badlands was born out of exposing the underlying Queenston Shale as erosion swallowed up the topsoil. No thanks to the poor farming practices of the 1930 settlers. 
Initially, the badlands was rich in vegetation. But it gradually started to fade off and was replaced with the rust-red rocky hills that have recently covered it. The red indicates the high levels of iron oxide in the soil. 
In attempts to repair the damage that has been done, heavy conservative work has been exerted on the badlands. As a result, trails around it were constructed to give tourists a view of the red, rocky badlands. 
| | |
| --- | --- |
| When to Visit | Any time before October, and after April as it closes in October but reopens for sightseeing IN April.  |
| What to do | Sightseeing.  |
---
My Impression
Saint Lawrence River isn't just a lonely river whose role is to sit at the border of Quebec City. Instead, it has enough space for adventure lovers to indulge in their preferred outdoor activities. 
Aside from standing as the link that brings other lakes to the Atlantic Ocean, this river sleeps at the shoreline of diverse villages and communities. Combined, you'll have a vacant space on your hand. Winter and summer are the best seasons to have a splendid experience at Saint Lawrence River. 
You can do anything from the cruise on the river to Quebec City, go surfing or sailing on the Baie de Beauport, Kite surfing, etc. You can also visit these communities and villages to explore their culture, food, etc. 
| | |
| --- | --- |
| When to Visit | Winter and Summer |
| What to do | Stand-up paddling, boat cruising, kite and windsurfing, sailing catamarans, etc.  |
---
My Impression
Mississauga has a unique vibrancy to it. It might seem like it's just another bubbling city in Ontario. But what I've learnt about bubbling and vibrant cities in Canada- especially Ontario is never to assume you've seen it all. While they have the similar thrills of most Ontario cities, these cities always bring a different perspective to how you indulge in the fun.
For example, Mississauga has tons of historic villages and fantastic art. But you'd realize it's unique and different from what you'll experience in Toronto. Mississauga adds a new flame to how fun is done in the city.
There are tons of recreational parks you can relax at. And Guess what? Mississauga houses the Toronto Pearson International Airport. This is the biggest- also rated busiest, Airport in Canada. 
| | |
| --- | --- |
| When to Visit | Summer |
| What to do | Attend the philippine and latin festivals, indulge in indoor laser tag, explore the old credit brewing co ltd, check out the trampoline park, visit the Japanese garden, soak in the beauty of the conservation area, etc.  |
---
My Impression
Most people know Port Dover because of the prominence of the fishing industry there. However, the place is home to many more attractions than just fishing. In essence, it's not only a place for anglers to visit. 
For instance, regular tourists who aren't fans of fishing can tour the lighthouse. You can also explore the Lynn River falls, sunrise café, etc. There's so much more that you can do at Port Dover. 
| | |
| --- | --- |
| When to Visit | Summer |
| What to do | Explore the port's lighthouse, beach, and harbour, go fishing, check out the Lynn valley trail, and the Lynn river falls, etc.  |
---
My Impression
The falls are the major tourist attraction at Niagara Falls. The name "Niagara Falls" refers to three different falls at the same location. The major fall that I and- most likely, other tourists gather to see is the one with more volume of water. 
It is also wide, but it's beautiful to watch- especially from a boat cruise. Check this out; Niagara Falls is said to produce up to 4 million kilowatts of electricity which is distributed between Canada and the United States.
| | |
| --- | --- |
| When to Visit | Summer |
| What to do | Boat cruise, watch Niagara falls, take pictures etc.  |
---
My Impression
This next vacation sits at the core of the Great Lakes. When you encounter Sault Ste. Marie, you know you've come in contact with genuine culture and arts. It's also a great place for lovers of sports to indulge their love for sports. 
There are so many things to do here. Some ideas include checking out the mural painting, museum, art gallery, spa for a self-care day, etc.  
| | |
| --- | --- |
| When to Visit | Summer into early Fall. |
| What to do | Hiking, bird watching, kayaking, spa day, exploring the art and culture, etc.  |
---
My Impression
If you ever want to explore freshwater scuba diving, let me officially welcome you to this place. Tagged as the freshwater Scuba of the world, it has all you need to enjoy scuba diving. 
On the North of Tobermory, eight islands make up the Fathom Five National Marine Park. This village houses many iconic places you should visit, like the Grotto, the Bruce Peninsula National Park, Flowerpot Island, etc. 
| | |
| --- | --- |
| When to Visit | Summer till Mid-Fall |
| What to do | Hiking, camping, swimming, scuba diving, etc.  |
---
My Impression
Peterborough is one of the most beautiful towns in Ontario, Canada. It has a unique culinary scene, music and arts. Landscape-wise, the city is beautiful. It is loaded with amazing parks that you'll never get tired of visiting. 
While exploring this town is magical, extending your exploration to the other central regions of Peterborough would expose you to a lot more adventure. In essence, you're not fully exploring this city if you've not visited the Kawarthas.
| | |
| --- | --- |
| When to Visit | Summer into early Fall |
| What to do | Picnicking, enjoying the music and arts, experiencing the fine cuisines, checking out the parks, going on a wine and dinner cruise, etc.  |
---
My Impression
The Scarborough Bluffs is made up of 11 parks, all of which are family-friendly. One of the parks- Bluffer's park, comes with a sand beach. Scarborough bluff owes its looks to the many years of water and wind erosion caused by Lake Ontario. 
Nevertheless, it's a beautiful sight to behold. What's more, fun is that there's enough fun to go around- regardless of your age. Simply find the outdoor activity that connects with your soul, and you'll be well on your way to having the best time of your life at this location.
| | |
| --- | --- |
| When to Visit | Summer and Spring |
| What to do | Hiking, swimming, paddleboarding, boat cruising, etc.  |
---
My Impression
This is a historic site in Hamilton. It is a 40-room villa built in the Italian- style. This historic site sits on Burlington Heights, where the British established their military encampment during the war in 1812. During historic times, this castle belongs to Sir Allan Napier MacNab. 
There's so much that touring this castle would reveal to you. The castle area is massive, which means there are more areas to be explored. Since you can walk around the castle, feel free to learn about the history trapped within the four walls of the castle. 
| | |
| --- | --- |
| When to Visit | Summer |
| What to do | Attend the events and workshops at the castle, tour the castle, etc.  |
---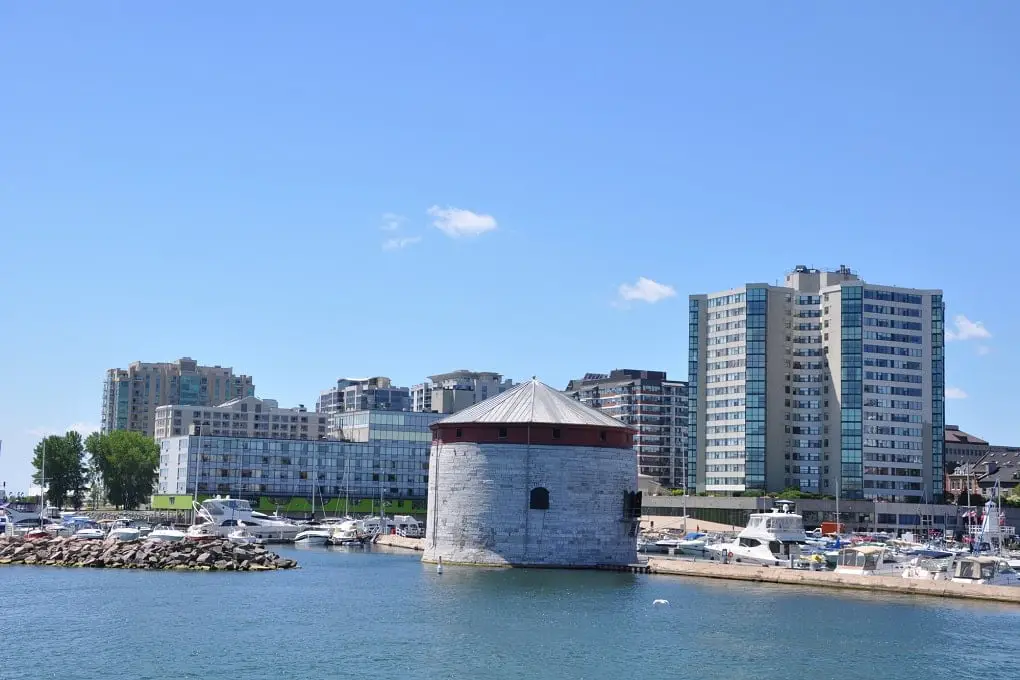 My Impression
When it comes to a list of places to visit in Ontario with an amazing view, the Kingston Waterfront should come to mind. It has fantastic views thanks to the converging rivers and the lakes. 
Luckily, the waterfront stretches forever, making it possible for people to enjoy outdoor water sports. The waterfront is also home to iconic places like the Yacht and Kingston rowing clubs. It has the perfect waterfront trails for bikers to explore. 
| | |
| --- | --- |
| When to Visit | Summer |
| What to do | Biking, kayaking, boating, other water sports, etc.  |
---
My Impression
The Peller Estates Winery has been in existence since the 1920s. It was created by a Hungarian immigrant. But that's not why this place is special to me and a must-visit. 
As a lover of genuine and pure wine, I couldn't resist the trip to this winery. Aside for Winetasting, you'll learn that the winery focuses on making Ice wine, Chardonnay, Riesling, etc. 
| | |
| --- | --- |
| When to Visit | All year round |
| What to do | Wine tasting, winery events, music, tours, exploring wine country itineraries, etc.  |
---
My Impression
This historic site is a time travel portal. Of course, I didn't mean that literally. But once you step into the gates of the Fort Henry National Historic Site, you'll be taken back into the 19th century. Here, you'll watch the military life. 
You'll also watch the Fort Henry Guard perform their military demonstrations, Trust me; it's always a great delight to see. With an experience guided tour, you'll have no problem learning and identifying what to explore next.  
| | |
| --- | --- |
| When to Visit | All-year-round. |
| What to do | Enjoy the music performance, Military performance, tour of the site, etc.  |
---
My Impression
Being a 100-acre park, this park is a great hangout spot for friends. You can choose not to engage in any activity and just sit and talk instead. The landscape is littered with enough greenery that keeps the place beautiful and attractive. 
The park is perfect for almost anything you want to do with friends, family and even your kids. There's the zoo that drops your jaw in wonder. The many activities in the park make it a fun place to be in. 
| | |
| --- | --- |
| When to Visit | Summer |
| What to do | Visit the zoo, hike, take a walk, picnicking, skating, golfing etc.  |
---
My Impression
The Lion's Valley Park isn't your average park. I frequent the park because of its gorgeous nature and hiking trails. But that's not all this part has to offer. There's a section where you can visit to watch animals. 
Beyond that, you can go fishing in the park or get lost in the scenic view of the park. It's surrounded by properly trimmed forests. The trees are a combination of dark and lighter shades of green coupled with brown. 
Also, the lake is a delight to watch. The shallow parts are clear, making it easy to see the marbles gathered at the bottom of the late.  
| | |
| --- | --- |
| When to Visit | All season round |
| What to do | Hiking, fishing, picnicking with barbecues, strolling, etc. |
---
My Impression
What better way to round up your trip to some of the best places in Ontario than with this beautiful conservation area? It is well-pruned and taken care of. Hence, it has all the beauty that nature carries. 
From the river gathered at the foot of hills and greenery in one part of the centre to the growing length of trees. There's so much of nature's beauty to soak in. Of course, there are many activities to tickle your fancy. 
| | |
| --- | --- |
| When to Visit | Summer |
| What to do | swimming, hiking, etc.  |
---
Best Places to Visit in Ontario: Final Words
With our exotic list of the best places to visit in Ontario, your trip to Ontario never has to be boring. You'll realize that there's so much to explore in Ontario. 
You'll also encounter different cultures, events, and festivals that will change how you view the world. Depending on your personality type, you might even make new friends.
Have fun exploring Ontario, Canada. See you around!
---
More - Best Places to Visit, Canada:
Best Places to Visit in Canada
Best Places to Visit in BC (British Columbia), Canada
Best Place to Visit in Victoria, BC, Canada
Best Places to Visit in Surrey, BC, Canada
Places to Visit on Vancouver Island, BC, Canada
Places to Visit in Alberta, Canada
---
AUTHOR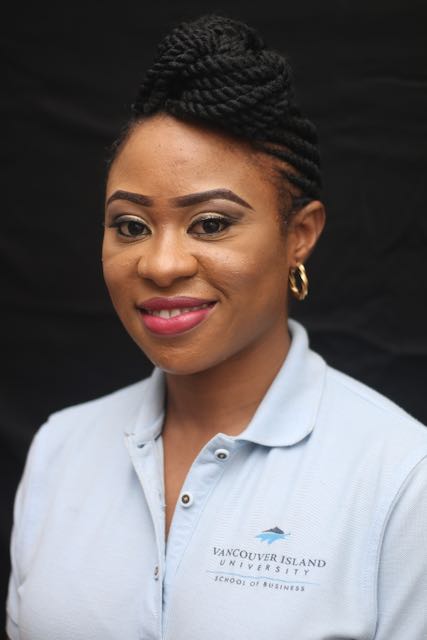 Charee Oisamoje is the founder of CanadaWiz. She leads the editorial team, which is comprised of subject matter experts that aim to create well-researched, highly detailed content related to studying, working, immigrating, and settling/living in Canada as a newcomer.
Charee's personal experiences as a Canadian immigrant and her professional competencies make her uniquely qualified on the subject matter.
With extensive educational credentials, she is an expert at collecting details, verifying facts, and making complex subjects easy to understand.
MBA in Finance
MScIB
CCEA (#CCG 271)
CPA Candidate ✔️CIP ✔️BSc Accounting
Learn More >> About Page
---
✔️ Get up to $3,000 CAD* Fee-Free transfer (or the equivalent of £2,000 in other currencies).
✔️ Earn $75 CAD** for every 3 friends you refer; they'll get a fee-free transfer of up to $800 CAD.
✔️ Multi-Currency Debit Card: Spend abroad without hidden fees.
✔️ Best and real exchange rates and lower fees than old-school banks and other money transfer services.

*Your secret code will be automatically applied.
**USD accounts earn $115 USD for every 3 friends you refer; they'll get a fee-free transfer of up to $600 USD).
---
✔️ Get a $30 welcome bonus for transferring $100* or more.
✔️ Get a 20 GBP welcome bonus for transferring 75 GBP* or more.
✔️ Fast: 95% of transfers are received by the recipient in minutes.
✔️ Better exchange rates and lower fees than most traditional banks and money transfer services.
*This can be achieved over multiple transfers.